Born in Smithtown, NY, currently lives and works in New York and Vermont.
Education
2003 – 2005   De Ateliers, Amsterdam, The Netherlands.
1999 – 2001   MFA Fine Arts and Integrated Media, California Institute of the Arts, Valencia, California.
1994 – 1998   BA Creative Writing, BA Studio Art High Honors, Oberlin College, Oberlin Ohio.
Selected One- and Two-Person Exhibitions
2023
Jen Liu, MIMA Digital billboard, Los Angeles.
The 13th Taipei Biennial: Small World (video commission: The Land At The Bottom of the Sea).

2022
ELECTROPORE, Upstream Gallery, Amsterdam.
\Art Award Project in AI, Cornel Tech

2021
Jen Liu + Aleksandra Domanovic, MAK Center for Art + Architecture in collaboration with LACMA, Los Angeles.
A Better Life for the Workers, art book commission by ALT_Cph and ARIEL, funded by the Danish Arts Council.

2020
Jen Liu, ARIEL Platform for Feminist Art, Copenhagen.
UCSD CALIT2 Lab Gallery, San Diego, CA.
GOLD LOOP, solo commissioned video, curated by Christina Millare / American Export, funded by the British Arts Council.

2019  
Gold Loop Bombard: choreographic performances and installations, various locations.

2018  
Pink Slime Caesar Shift, Upstream Gallery, Amsterdam.

2017  
The Red Detachment: Bai Wei's Natural History¬, solo commission by OK.Video/ruangruppa, Bogor Zoology Museum, Bogor, Indonesia.

2016  
Digital Billboard Platform: Jen Liu's The Pink Detachment, LAXART, Los Angeles, CA.
The Pink Detachment, SomoS Kunsthaus, Berlin, DE.
The Red Detachment of Women: Online, commissioned by Triple Canopy as part of the Standards issue.


2015   
The Red Detachment of Women: Performance for 6 Dancers, co-commissioned by Triple Canopy and The Whitney Museum, Whitney Museum, New York, NY.


2014   
The Managers, Upstream Gallery, Amsterdam, NL.
SAFETY FIRST, Mallorca Landings, Palma de Mallorca, ES.
Come One Come All (permanent commission), Citizen M Times Square, New York, NY. 

2013   
Melon Mysticism for Everyone. Commissioned by ISCP in collaboration with NYC DOT and ISCP, Manhattan Bridge, NY. 

2012   
Initial Public Offering, Space of Drawings, Copenhagen, Denmark.

2011   
Six Colorful Stories: John Baldessari, Jen Liu.  Ceri Hand Gallery, Liverpool, UK.

2010   
Brody Condon, Jen Liu, On Stellar Rays, New York.
Volta NY Art Fair, solo booth (Ceri Hand Gallery). 

2009   
The Last Alphabet / Pasta Belt Health, Upstream Gallery, Amsterdam, NL. 

2008   
Insurrection for a Million or One, Upstream Gallery, Amsterdam, NL.
Drastic Measures, Unknown Pleasures, Ceri Hand Gallery, Liverpool, UK.

2007   
An Innocent Revolution, DePauw University, Greencastle, IN.
New Dawn Fades, Lizabeth Oliveria Gallery, Los Angeles.
DM.0086: A Local Map of Broken Glass, Division Museum of Ceramics and Glassware, New York, in collaboration with Barb Choit.

2006   
Rotterdam Art Fair, solo booth (Upstream Gallery). 

2005   
The Last Four Seasons, Upstream Gallery, Amsterdam, The Netherlands.
Ready To Die!, Lizabeth Oliveria Gallery, Los Angeles. 
Friends Electric!: Jen Liu, Andrea Thal, Binz39 Foundation, Zurich.
Videos van Jen Liu, Melkweg Media, Amsterdam, The Netherlands.

2004    
Jen Liu, Folkert de Jong, Upstream Gallery, Amsterdam.
Selected Group Exhibitions and Performances
2023
4th Future of Today Biennale: To Your Eternity, curated by Xin Wang, Today Art Museum, Beijing.
Mixed Feelings, Upstream Gallery, Amsterdam.
Exotermia, MUSAC, Leon, Spain.
New Harvest I, Eye Film Museum, Amsterdam.
Harper's Bazaar Women in Art tour, Amsterdam Art Week.
Paradise Tossed: Where Do We Go From Here?, IMAI Foundation, NRW Forum, Duesseldorf.
Play & Loop V, Blindspot Gallery, Hong Kong.
The 13th Taipei Biennial: Small World (new commission).
Stuttgarter Filmwinter 2023, Stuttgart (received Expanded Media Award from Media in Space exhibition).

2022
Jen Liu and Elaine Ho (collaborative project), Brooklyn Rail Critics Page, Summer 2022 Issue.

2021
Open Secret, curated by Nadim Samman, KW (online commission).
Between Beasts and Angels, Radiator Gallery (New York) and Scope BLN (Berlin).
Blue Cables in Venetian Watercourse (virtual), Power Station of Art, Shanghai
Light Year 66, curated by Eva Davidova and Meredith Drum, projected onto Manhattan Bridge and streamed at Scope BLN.
Stories of Resistance, Contemporary Art Museum, St Louis.
Girl U Want, ArtYard, Frenchtown, New Jersey.

2020
Terms and Conditions 3, curated by Johnnie Chatmand and Liz Zito, New York.
Women Filmmakers Festival: Jen Liu, Meriem Bennani, Lizzie Borden, Smithsonian Museum of American Art, Washington DC.
Arsenal 3, curated by Angelika Ramlow, Das Arsenal Institut fur Film und Videokunst, Berlin.
Christine Rebet / Yuri Liederman / Mladen Stropnik with Marko Tadik and Jen Liu, Galerija Gregor Podnar, Berlin.
ALT_CPH 2020: Patterns in Resistance, Copenhagen, DK.
DEAR FUTURE...: Jessica Houston, Ariel René Jackson, Jen Liu and Sherwin Rio, University of Northern Colorado, Greeley, CO.
THE EYE CAN SEE THINGS THE ARM CANNOT REACH, curated by Giuseppe Pinto and Julie Grosche, San Giuseppe Church, Poligno a Mare, Italy.
LIGHT YEAR 66 | Beyond Fear and Tyranny: the River is Here, curated by Eva Davidova and Meredith Drum, Manhattan Bridge, New York.

2019  
Jen Liu, Joanna Piotrowska, Jesse Wine, Simone Subal Gallery, New York.
Migration Narratives, curated by Meiya Cheng, ACC Gwangju in collaboration with the Goethe Institute, Gwangju, Korea.
Modern Mondays: Jen Liu, MOMA, New York.
Trouble in Paradise, Kunsthal Rotterdam, the Netherlands.
Feast and Famine, Paul Robeson Galleries, Rutgers University, NJ.
After Party, Times Museum Guangzhou, China.
When Artists Enter the Factories, Brooklyn Army Terminal (BAT), curated by Jia-Jen Lin and Srinivas Aditya Mopidevi
San Diego Asian Film Festival: SHE EXPERIMENTS
Sick Time, Sleepy Time, Crip Time: Against Capitalism's Temporal Bullying, Red Bull Arts, Detroit
WE HAVE BEEN SO DESENSITIZED...2019 Lishui International Photography Festival, co-curated by Dylan Gauthier and Deng Yan, Lishui City, Zhejiang Province, China
Factories, Machines, and the Poet's Words, co-curated by Liu Ding and Carol Yinghua Lu, A07, 798 Arts District, Beijing, China.

2018  
NEW/NOW, Philbrook Museum, Tulsa, OK.
A Mechanism Capable of Changing Itself: Berlinale Forum Expanded Exhibition, Berlin, DE.
Meeting the Universe Halfway, KIT Museum, Duesseldorf, DE.
Sick Time, Sleepy Time, Crip Time: Part II, curated by Taraneh Fazeli, Bemis Center for Contemporary Arts, Omaha, NE.
Laugh Back, Smack Mellon, Brooklyn.
Jubilation Inflation: Tamar Ettun, UNLV Museum, Las Vegas.
As If, Provisional Gallery, San Francisco, CA.
Outside the Palace of Heavenly Purity, bitforms gallery, New York, NY.
Shen Xin and Jen Liu (screening/discussion), Asia Art Archive, Brooklyn, NY.
VCD: Lumen Quarterly, Ullens Center for Contemporary Art, Beijing.
On Propaganda: Jen Liu and Mariam Ghani, Asia Art Archive, Brooklyn, NY.

2017  
The Visible Hand, CUE Art Foundation, New York, NY.
After Party, curated by Leo Li Chen, Blindspot Gallery, Hong Kong.
Soft Skills, curated by Kaegan Sparks, James Art Gallery of the CUNY Graduate Center, New York, NY.
Sick Time, Sleepy Time, Crip Time, curated by Taraneh Fazeli, EFA, New York, NY.
OK. Video, curated by Renan Laru-an and Julia Sarisetiati in coordination with ruangrupa, Jakarta, Indonesia.
Warp and Weft screening: Sondra Perry and Jen Liu, Lawndale Arts Center, Houston, TX.
Glitch Girls: Jen Liu with Aliza Shvarts (solo screening and conversation), James Gallery at CUNY Graduate Center, New York, NY.
COMM | ALT | SHIFT, curated by Larry Ossei-Mensah and Dexter Wimberley, Aljira, Newark, NJ.

2016   
WE ARE NOT THINGS, curated by Hannah Whitaker, Invisible Exports, New York, NY.
Traversing the Phantasm, Berlinale Forum Expanded exhibition, Akademie der Kunst, Berlin, DE.
Public Spirits, CCA Warsaw, Warsaw, Poland.
Color Visions, Videoforma Festival IV (exhibition section), Kuryokhin Center for Modern Art, St. Petersburg, Russia.
Hybrid Visions, curated by Jens Geiger as part of China Time 2016, Metropolis Kino, Hamburg, DE.
Art Dubai Film, Dubai, UAE.
Jen Liu (solo screening), Fundacja Nosna at Henryk, Krakow, Poland.
Utopia Is No Place, Utopia is Process, curated by Jacqueline Mabey, USDAN Gallery, Bennington College, VT.
Jen Liu, Attaque(e)r le visible at La Mutinerie, Paris, FR.

2015   
Berlinale, Forum Expanded, Academy of Arts Berlin, DE. 
Film Montage, Coreana Museum of Art, Seoul, Korea.
Screening the Speculative: Melika Bass, Jen Liu, and Peter Hopkins Miller, New Museum, New York, NY.
The Ism That Dares Speak Its Name, PARMER at Abrons Art Center, New York, NY.
Socialism, Really? Momenta Art, Brooklyn, NY.
The Cost of Wealth, a project of Jubilee and Goethe-Institut in collaboration with CINEMATEK, Argos and deBuren, Brussels, BE.
Transformer, Upstream Gallery, Amsterdam, NL.
Poet Transmit (performance), curated by Victoria Keddie and Cat Tyc, St Marks Church, New York.

2014
Shanghai Biennial, Shanghai, China.
Unto Void Fulfills This Place, das weisse haus, Vienna, Austria. 
Monsanto Shadow Symposium (performance), Radical Archives CFP, NYU A/P/A Institute, NY. 
Ready-To-Hand, Sunview Luncheonette, Brooklyn, NY. 
LOCOMOTION, London.

2013   
Salon der Angst, Kunsthalle Wien, Vienna, Austria. 
Only Dead Fish, Upstream Gallery / Lloyd Hotel, Amsterdam, NL
Hold This Object Up Until There is Nothing Left of You, Modern Edinburgh Film School, Scotland. 
Implausible Imposters, Ceri Hand Gallery, London. 
I Like the Way You Move, Edinburgh Art Festival, White Space, Edinburgh, Scotland. 
Pleasure Paradox, Gallery MK, Milton Keynes, UK. 
#catcamp, Helper Projects, Brooklyn, NY. 
Nite Flights, Old Hairdressers, Glasgow, Scotland.
Present and Accounted: ENACT, Performance Art Festival, Cleveland, OH. 
The Scenery Changes Three Times: Brian Belott, Matthew Craven, Sara Cwynar, and Jen Liu, Schema Projects, Brooklyn, NY. 
Cacotopia, Anthony Burgess Foundation, Manchester, UK. 

2012   
We Are 2-Up, Bowery Poetry Club, curated by Sue Scott Gallery, New York, NY.
Folio (group exhibition and performance), Soloway Gallery, Brooklyn, NY.
Harvest (performance), Antechamber, Copenhagen, DK. 
Reverse Engineering, Paraflows, Vienna, AT.
Bottoms (performance), On Stellar Rays, New York, NY. 
Fuel for the Fire, Dawn Kasper + Human Resources LA/NY, New York, NY. 
Blink: art, Gwangju, Korea. 

2011   
Space.  About a Dream. curated by Catherine Hug, Kunsthalle Wien, Vienna, Austria.
Monodramas / Act 4, curated by NADA for New York City Opera, New York. 
Art Rotterdam Video Hall, curated by Zapp Magazine, Rotterdam, NL. 
Utopian Structures – New Existentialism Part 3, Gebert Stiftung für Kultur, *ALTEFABRIK, Rapperswil-Jona, Switzerland. 
Localhost, AZKM Kunsthalle Muenster, Muenster, DE. 
Memory of A Hope, Ceri Hand Gallery, Liverpool, UK.  
Eslov Wide Shut, curated by Stefan Lundgren, Blomsterberg's Warehouse, Eslöv, Sweden.

2010   
You Can Heal Your Life! curated by Emma Gray, Circus Gallery, Los Angeles. 
Never Can Say Goodbye: The Way Out, curated by Lauren Rosati for No Longer Empty @ Former Tower Records, New York. 
Scope Foundation: "d.i.y. sci-fi", curated by Zach Layton, Scope Art Show, New York. 
Exploitation on Demand, curated by Karin Laansoo, Sparwasser HQ, Berlin, DE.
Jen Liu, Mie Olison, Gurdjieff Players, Issue Project Room, Brooklyn, NY. 
36 Dramatic Situations, Louis V E.S.P., Brooklyn, NY.
Malleable Memory, Aicon Gallery, New York.
Upstream Cinema: David Haines, Jeroen Jongeleen, Cristobal Leon and Jen Liu, Upstream Gallery, Amsterdam, NL. 
All Things Being Equal, Raritan Valley Community College, Raritan, NJ. 
NADA Gala (Performance Program), New York. 
Black Hole Hums in B Flat, Ceri Hand Popup, London.
Fugue State (performance), Dorsche Gallery, Miami, FL. 
APT at Pulse Miami, Pulse Fair, Miami, FL.
Filmsalon: Claudia Kugler, Kunstverein Nurnberg, DE.
Building Paradise, 7+Fig, Los Angeles.
Vision Division­: Olaf Brzeski, Theresa Froelich, and Jen Liu, Czama Gallery, Warsaw, Poland.
NEWAGERIOT, Country Club/Los Angeles.
MONITAUR, Aspen Museum of Art, Aspen, CO.
The Last Session, Flemish Cultural Center, Amsterdam, NL.
University of Trash, The Sculpture Center, Queens, New York. 
EXHIBITION, Exhibition 211, New York. 

2008   
Agrifashionistas, Royal Academy, London.
NADA Emerging Artists Gala (performance), New York.
Without Sun: Brody Condon, Jen Liu, Avelino Sala, and Adriaan can der Ploeg, Virgil de Voldere Gallery, New York. 
New Collections III, Centre PasquART, Biel/Bienne, Switzerland.
Shifting Identities, (Swiss) Art Now, Kunsthaus Zurich.
The Violet Hour: Matthew Day Jackson, Jen Liu, and David Maljkovic, Henry Art Gallery, Seattle.
The Golden Record, Collective Gallery/Edinburgh Festival, Edinburgh.

2007   
Dream of Today, curated by Amy Smith-Stewart, Steve Turner Contemporary, Los Angeles.
An Aside, special exhibition of Zoo Art Fair 2007, London.
NADA Art Fair (Upstream Gallery & Lizabeth Oliveria Gallery), Miami, FL.
The Present Order is the Disorder of the Future, De Hallen Museum, curated by Xander Karstens, Haarlem, The Netherlands.
Mind Hacking II, organized by Theresa Frölich and Antonia Lotz, Wewerka Pavilion, Münster, Germany, traveling.
Paper Bombs, curated by Bart Exposito, Jack Hanley Gallery, Los Angeles.
M*A*S*H, curated by Amy Smith-Stewart and Omar Lopez-Chahoud, The Helena, New York.
The Fit/Turtle, Nueans in collaboration with Michael Shamberg, Dusseldorf, DE.
The Return of the Seven Samurai, Galerie Lucy Mackintosh, Lausanne, Switzerland.


2006
Romer II, Akademie Schloss Solitude Romerstrasse Gallery, Stuttgart, DE.
Flood Lit Wendy House, New York Rio Tokyo Gallery, Berlin.
NADA Artfair (Upstream Gallery and Lizabeth Oliveria Gallery), Miami, FL.
View (Eleven):Upstate, curated by Amy Smith-Stewart, Mary Boone Gallery, New York.
Liverpool Biennial:Virtual Grizedale, A Foundation, Liverpool, UK. 
Big City Lab, Art Forum Berlin.
Experiments in Pop, curated by Laura Hoptman, Zentrum Paul Klee, Bern, Switzerland. 
Liste Artfair Basel (Upstream Gallery), Basel, Switzerland.
Peekskill Project 2006, Hudson Valley Center for Contemporary Art, Peekskill, NY.
Trial Balloons, Museo de Arte Contemporaneo de Castilla y Leon, Leon, Spain.
Jen Liu + Bjorn Melhus + Claire Rojas, Lizabeth Oliveria Gallery, Los Angeles.
Things We Saw in Holland, Kravets/Wehby Gallery, New York, NY. 

2005
Carlos Aires / Jen Liu / Melvin Moti / Elodie Pong, Galleria Laurin, Zurich, Switzerland,
Explosive Compulsive: Reed Anderson, Adrianne Colburn & Jen Liu, Luggage Store Gallery, San Francisco.
NADA Artfair Miami (Lizabeth Oliveria Gallery and Upstream Gallery), Miami, FL.
Liste Artfair Basel (Upstream Gallery), Basel, Switzerland.
Futurism, Melkweg, Amsterdam, The Netherlands.
Fast Forward: A Passion for the New, curated by Scenic in affiliation with MOCA LA, House of Campari, Venice, CA.
Videonale 10, Kunstmuseum Bonn, Germany. 
Open Video Call, Artists Space, New York.

2004    100 Artists See God, Institute of Contemporary Art, London.  Traveling exhibition through Independent Curators International.  Jewish Museum, San Francisco; Laguna Beach Art Museum, California; and Memorial Art Gallery, Rochester, NY; tours through 2006. 
LA Freewaves: Karaoke Boat, Los Angeles. 
Biennale Bonn: New York State of Mind, Bonn, Germany. 
Through the Gates: Brown vs. Board of Education, California African American Museum, Los Angeles.
Futureways: The Middelburg Triennial 2304, curated by Rita McBride, Glen Rubsamen, and Rutger Wolfson, de Vleeshal, Middelburg, The Netherlands.
Homies, DianePruess Gallery, Los Angeles. 

2003   
Nueva 2003 Tokyo, Laforet Museum Harajuku, Tokyo
Filmstock, Luton, England.  Traveling to Oulu International Film Festival, Finland
An Interest in Life, curated by John Baldessari and Meg Cranston, Apex Art, New York.
Selected Bibliography

Bailey, Stephanie. After Communism and Capitalism: On Jen Liu's Political Economy of Matter. YISHU: Journal of Contemporary Chinese Art, Spring/Summer 2021.
12 Artists On: The Financial Crisis, New York Times Magazine, July 21, 2020.
LACMA Unframed: A Conversation Jen Liu, Parts 1 and 2, 2020.
Hawley, Anthony. "13th Forum Expanded Exhibition: A Mechanism Capable of Changing Itself." Brooklyn Rail, September 4, 2018.
Reiger, Birgit. "Im Grenzbereich con Kunst und Kino," Tagesspiegel, February 17, 2018.
Pett, Inge. "Forum Expanded: A Mechanism Capable of Changing Itself," Art in Berlin, February 16, 2018.
Genhart, Irene. "Berlinale: Forum Expanded," Filmdienst, February 16, 2018.
Hinrichsen, Jens. "Berlinale Calling," Monopol Magazine, February 14, 2018.
Valinsky, Rachel. "The Visible Hand," Art21 Magazine, May/June 2017.
Anania, Katie. "ArtForum Critic's Picks: "Sick Time, Sleepy Time, Crip Time: Against Capitalism's Temporal Bullying"
Clements, Alexis. "How Art Making Is a Type of Management," Hyperallergic, February 6, 2017.
Coombs, Gretchen. "The Visible Hand at CUE Art Foundation," Temporary Art Review, April 20, 2017.
Hong, Cathy Park. "Artists and Identity," ArtForum, Summer 2016.
Weinstein, Matthew. "Machine Dreams and Painting's Extremes: Matthew Weinstein on Jonathan Lasker and Jen Liu," ARTNEWS, March 10, 2016.
Kang Kang, "Really, Socialism?!" Yishu Magazine, March/April 2016.
Steinbruegge, Bettina. "Rueckblick: Berlinale 2016 – Von Phantasmen, Haltungen und Erfahrungen," Spike Art Magazine, February 21, 2016. "Dansende Arbeiders in kartonnen dozen," NRC Handelsblad, October 23, 2014. 
"Letter to Marisa Merz," PERSONA, Sternberg Press, Berlin, DE, 2013. 
"Jen Liu, Initial Public Offering 0000: SOD," New Danish Art, Copenhagen, DK, 2013.
Dawson, Kelly Chung, "Chinese Art Goes Public in NYC," China Daily USA, August 2, 2013.
[Chinese language interview], World Journal, July 11, 2013. 
Skye Sherwin and Robert Clark, "Exhibitionist: This Week's Art Shows in Pictures," The Guardian, September 16. 2011.
Davis, Laura, "New York Based Artist Jen Liu…." Liverpool Daily Post, September 13, 2011. 
Gerhard H. Kock, "Weltweit daheim und unterwegs," Borkener Zeitung, June 1, 2011. 
Sabine Müller, "Kölsche Südsee-Träume," Rurh Nachrichten.de, June 6, 2011.
Hallett, Nick, "BOMBLOG: A Night At the Opera," Bomb Magazine Online, April 5, 2011.
"Weltraum. Die Kunst und ein Traum," ZDF, broadcast April 9, 2011.
"Weltraum. Die Kunst und ein Traum," Dradio, broadcast April 4, 2011. 
Davis, Kim, "High Brow on the Lower East Side," The Big Apple Magazine, January 2011. 
Carlin, T.J., "Brody Condon & Jen Liu," Art Review, January and February 2011. 
Patrick Gantert, "Brody Condon and Jen Liu…" wowhuh.com, February 7, 2011. 
Chayka, Kyle, "Two Kinds of Abstraction At On Stellar Rays," Hyperallergic, December 6, 2010. 
Fee, Brian,  "3x300: Jen Liu, Christiana Soulou, and Paul Lee."  NY Art Beat, November 19, 2010. http://www.nyartbeat.com/nyablog/2010/11/3x300-jen-liu-christiana-soulou-and-paul-lee/
"Klaus Part 2 Volta and Armory New York March 2010." http://www.fadwebsite.com/2010/03/08/klaus-part-2-volta-new-york-march-2010/
"Five Questions for….Jen Liu", MetroLife UK, October 29, 2008. 
"Artwork of the Week – Jen Liu", Liverpool Art and Culture, November, 2008.
"we", Catherine Wagley, Artslant, July 21, 2008
"ArtCal Pick: Without Sun", artcal.net, July 2, 2008.
"Jen Liu and a Group of Rising Artists Move Out of the Art World's Daze", Regina Hackett, Seattle P-I, June 28, 2008. 
Graves, Jen.  "The Lunatic is on the Grass." The Stranger, August 28, 2008. 
Graves, Jen.  "Artists of the Apocalypse Speak."  In/Visible, The Stranger Podcasts, June 25, 2008.
Gray, Emma.  "Jen Liu at Lizabeth Oliveria Gallery, LA."  Saatchi Online, November 10, 2007.
"Top 10 Shows in Los Angeles This Month", Saatchi Online, November 3, 2007.
"L.A. Confidential," Emma Baker.  Artnet­, May 19, 2006. http://www.artnet.com/magazineus/reviews/gray/gray5-19- 06.asp
 "Review: Globos Sondas" Max Andrews. Frieze Online.  2006. 
"Explosive Compulsive at the Luggage Store."  "Colin Berry.  Artweek, February 2006.  p13-14, illus.
 "Focus Los Angeles: Jen Liu."  Flash Art, January-February 2006, p.72, illus. 
 "Who Are These People Showing So Much, And Why Do They Feel The Need To Be Seen?"  Kenneth Baker.  San Francisco Chronicle, January 7, 2006.
 "Explosive 'Compulsive'." Hiya Swanhuyser, San Francisco Weekly, December 8, 2005, illus.
 "20 Bright Young Things: Jen Liu." ArtReview, December 2005, illus.
"Jen Liu at Lizabeth Oliveria Gallery," Christopher Miles, Artforum, September 2005, p. 312.
"Jen Liu at Lizabeth Oliveria Gallery," Shana Nys Dambrot, Artweek, June 2005, Volume 36, Issue 5, pg. 17,(cover image: detail of "Light as Air, Light As Love: Diamonds of the Earth").
Knight, Christopher.  "A Harsh Yet Enchanting World," Los Angeles Times, May 6, 2005. 
 "A Powerful Atmosphere for New Ideas," Los Angeles Times, Los Angeles, February 9, 2004. 
 "Toekomst werpt licht op heden," Provinciale Zeewuse Courant, The Netherlands, January 30, 2004.
 "Highlight: 100 Artists See God," Contemporary Magazine, Issue 57, December 2003, p 24-25, illus.
Reindl, Uta Maria.  "Cyberfem Spirit – Spirit of Data," Kunstforum International, December 2001, p 326-327. 
Dogramaci, Burcu.  "Frauen, bits und bytes," Suddeautsche Zeitung, Nr. 295, December 22/23, 2001.
Gardill, Von Ingrid.  "Frauen und die Kunst im Netz," Nordwest-Zeitung, December 12, 2001. 
Catalogues, Art Books, and Essays
A Better Life for the Workers, art book published by ARIEL PRESS, 2021.
Best! (artist commissions), edited by Christopher Ho and Daisy Nam, Paper Monument, New York, 2021.
When Artists Enter the Factories, Brooklyn Army Terminal (BAT), 2019.
A Symposium on Asad Haider's Mistaken Identity: Race and Class in the Age of Trump – Part II, edited by Avi Alpert. ASAP Journal, 2019 (essay contribution: "Zombie Talk").
Factories, Machines, and the Poet's Words, A07, 798 Arts District, Beijing, China, 2019. Trouble in Paradise, Kunsthal Rotterdam, the Netherlands, 2019.
Singapore Biennale 2019: Every Step In the Right Direction, Singapore Art Museum, 2019. After Party, Times Museum Guangzhou, China, 2019.
Hoosac Institute Volume 2, edited by Jenny Perlin, New York, 2018 (essay contribution: "Future Tense").
Vector 8 (artist commissions), edited by Ellie Irons and Peter Gregorio, Bronx, NY, 2018.
The Visible Hand: Curated by David Borgonjon, CUE Art Foundation, 2017.
Public Spirits, CCA Ujazdowski Castle, Warsaw, Poland, 2016.
10th Shanghai Biennale: Social Factory, Power Station of Art, Shanghai, China, 2014.
Reverse Engineering, Paraflows, Vienna, Austria, 2012. 
Eslov Wide Shut, Eslöv, Sweden, 2011.
Space.  About a Dream. Kunsthalle Wien, Vienna, Austria, 2011.
VOLTA NY 2010 Artists' Book, VOLTA, New York, 2010.  
The Last Session, Flemish Cultural Center, Amsterdam, NL, 2009. 
The Violet Hour: Matthew Day Jackson / Jen Liu / David Maljkovic, Henry Art Gallery, Seattle, WA, 2008.
An Innocent Revolution, Depauw University, Indiana, 2007.
"PROP" Proud to be a V.I.P., Nueans, Duesseldorf, Germany, 2007.
Sommerakademie 2006 im Zentrum Paul Klee: Experiments in Pop, Zentrum Paul Klee, Bern, Switzerland, 2006.
Globos Sondas, Museo de Arte Contemporaneo de Castilla y Leon, Leon, Spain, 2006.
Art Forum Berlin: Big City Lab, 2006.
Videonale 10.  Kunstmuseum Bonn, Bonn Germany, 2005.  
Friends Electric!  Binz39 Foundation, Zurich, Switzerland, 2005.
100 Artists See God.  Independent Curators International (ICI), New York, 2004, p 14, illus.
Futureways.  Printed Matter, Inc., and Whitney Museum of American Art, 2003, p 64, illus. 
Cyberfem Spirit: Spirit of Data.  Helen von Oldenburg and Rosanne Altstatt (eds.), Edith-Russ-Haus fur Medienkunst, Oldenburg, pp 30-33, illus. 
Grants / Residencies
2022                Hewlett 50 Art Commission.
               Backslash Art Award, Cornel Tech.
2021               Surf Point Residency, Maine
2019               Swatch Art Hotel AIR, Shanghai, China.
                       Creative Capital Award
2018               Pioneer Works, Brooklyn, NY.
                       LACMA Art + Tech Lab grant
                       Baker Tilly Award
2017               Tulsa Artist Fellowship, Tulsa, OK.
2016               Para Site AIR, Hong Kong.
                       LMCC Process Space Governor's Island, New York.
2012               Quartier 21, Vienna, Austria.
2011               Krems AIR, Krems, Austria. 
2008               Pollock-Krasner Grant
2008 / 2009    ISCP, New York
2006               Akademie Schloss Solitude, Stuttgart, Germany.
                      Sommerakademie im Zentrum Paul Klee, Bern, Switzerland.
2005              Grizedale Arts, Cumbria, England.
2003 – 2005  De Ateliers, Amsterdam, The Netherlands.
Exhibition inquiries: Upstream gallery, Amsterdam
info@upstream.nl
Festival/screening inquiries: Arsenal Berlin
mail@arsenal-berlin.de
Anything else?
jenliu3 - at - gmail - dot - com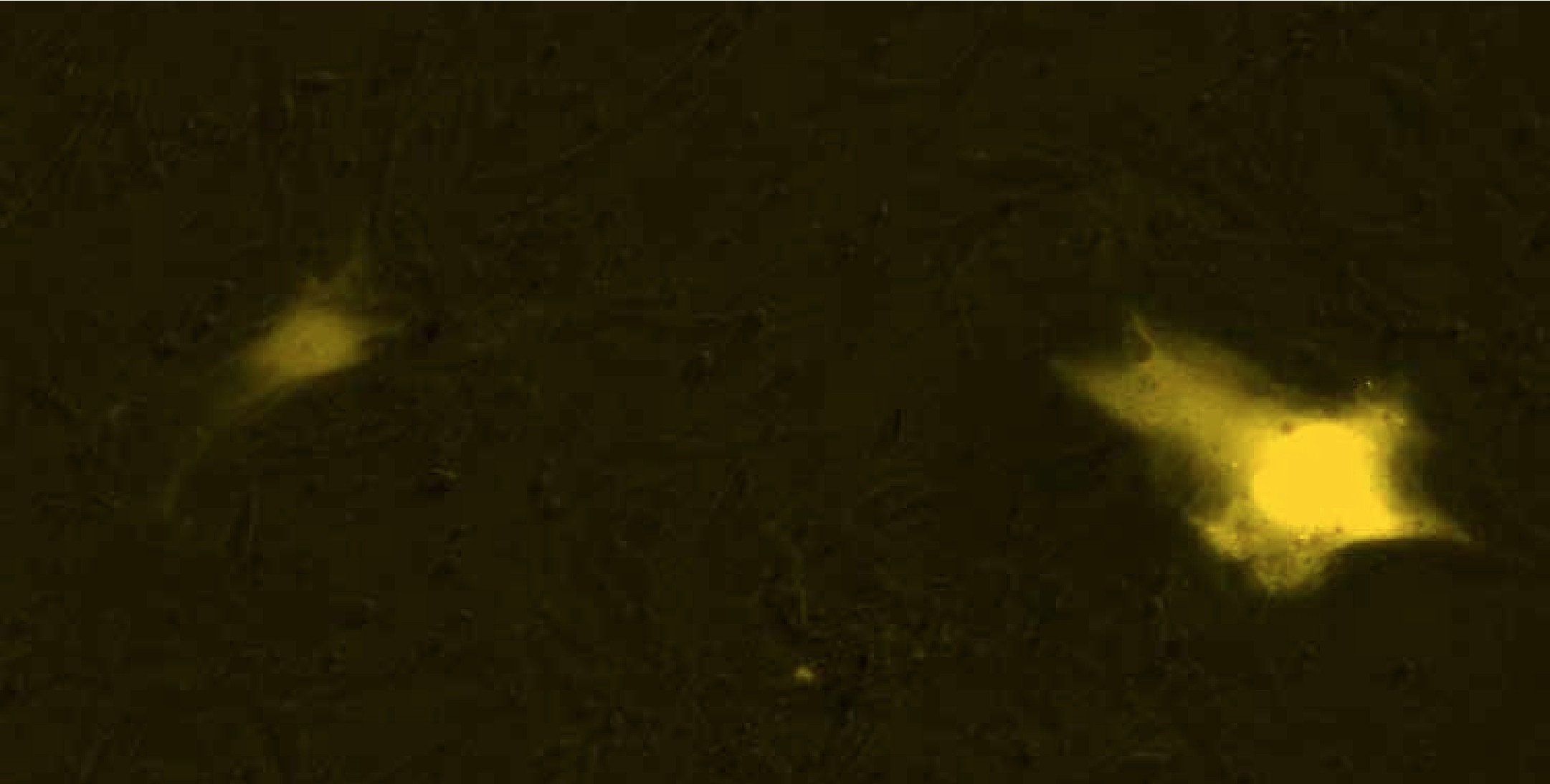 PINK SLIME CAESAR SHIFT
2017 - PRESENT: FRAMEWORK
FLUORESCENT MICROSCOPE IMAGE OF LIVING BEEF CELLS , GENETICALLY ALTERED VIA GOLD BIOLISTICS
As of Spring 2021, the first three methods have been used to insert strings of synthetic DNA into beef cells. This synthetic DNA is the text described, encrypted according to global standards for amino acid abbreviations - therefore easily decodable.
GENETIC ALTERATION METHOD #1: CHEMICAL TRANSFECTION
GREEN FLUORESCENT BIOMARKER
INTRODUCTORY TEXT: Qiu Jin, For Xü Xiaoshu Before Death, 1907
TEXT: Chinese Labor Law, Articles, 39-43, on rights of workers in case of industrially injury , 2007
GENETIC ALTERATION METHOD #2: GOLD BIOLISTICS
YELLOW FLOURESCENT BIOMARKER
INTRODUCTORY TEXT: Lizzie Borden, Born in Flames, 1984 - dispatch from the Women's Army
TEXT: 198 Methods of Nonviolent Action, Albert Einstein Institution, 2017 Edition (Excerpt 1)
GENETIC ALTERATION METHOD #3: ELECTROPORATION
PINK FLUORESCENT BIOMARKER
INTRODUCTORY TEXT: Fred Ho on Capitalism as a Cancer
TEXT: 198 Methods of Nonviolent Action, Albert Einstein Institution, 2017 Edition (Excerpt 2)
GENETIC ALTERATION METHOD #4: VIRAL TRANSFECTION (TBC)
WHITE FLOURESCENT BIOMARKER
INTRODUCTORY TEXT: TBD
TEXT: TBD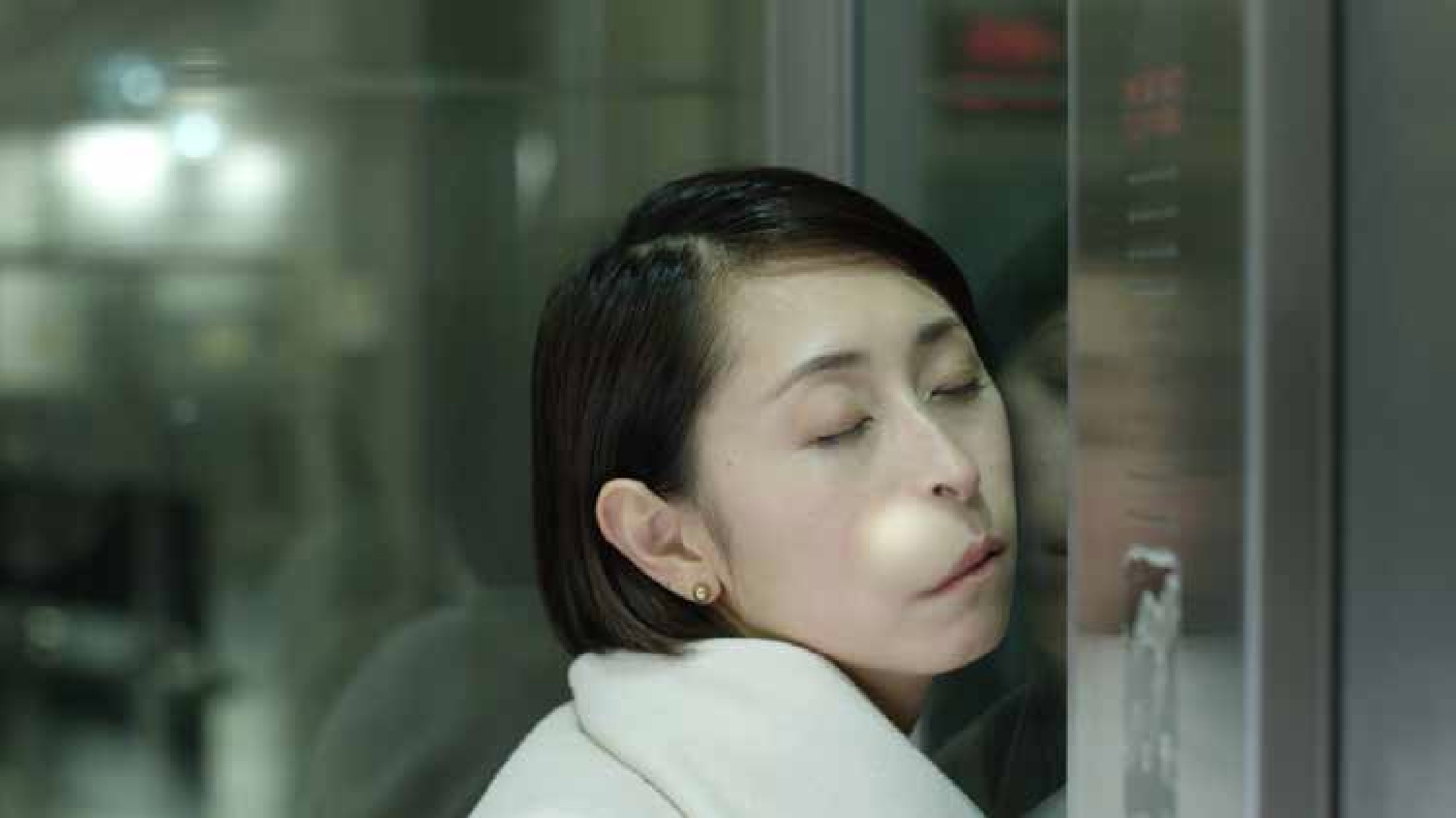 4K video, 4-channel sound
Running Time: 28 minutes
Pink Slime Caesar Shift: Gold Loop reflects on e-waste, political resistance, and the disappearance of labor activists. Gathering firsthand accounts of female electronics workers in South China, I investigate the physical, legal, and biochemical realities of gold extraction from e-waste (old computers, cell phones, and other domestic electronics). This gold is leached out by using strong acids to dissolve plastic and base metals. These chemicals seep into the environment and accumulate in the bodies of workers, causing long-term environmental poisoning — a mirror image of the industrial poisoning incurred by the production of electronics in the first place, "a gold loop."
In the first part of the video, gold orbs are everywhere in the landscape and in the body of a corporate worker. We later see this same worker teach a course on "circular economics," a technical term corporations use to justify the production of electronics, claiming to have e-waste recycling in mind. But circular economics obscure the truth of its chemical toxicity and the compartmentalized geographies of environmental racism.
Meanwhile, Chinese labor activists are kidnapped — "disappeared" — in response to protesting their exposure to toxins. There is no viable present solution to these state-sponsored kidnappings. But are there other possibilities for disappearance, if disappearance is unavoidable? Perhaps there is a speculative future in which workers can use a historic, anti-colonial method of political resistance: collective disappearance through mass departure and burial of all material traces. Whether it is hopeful or cynical, a practical suggestion or metaphor, it is an attempt to answer: how to make the most of one's inevitable disappearance?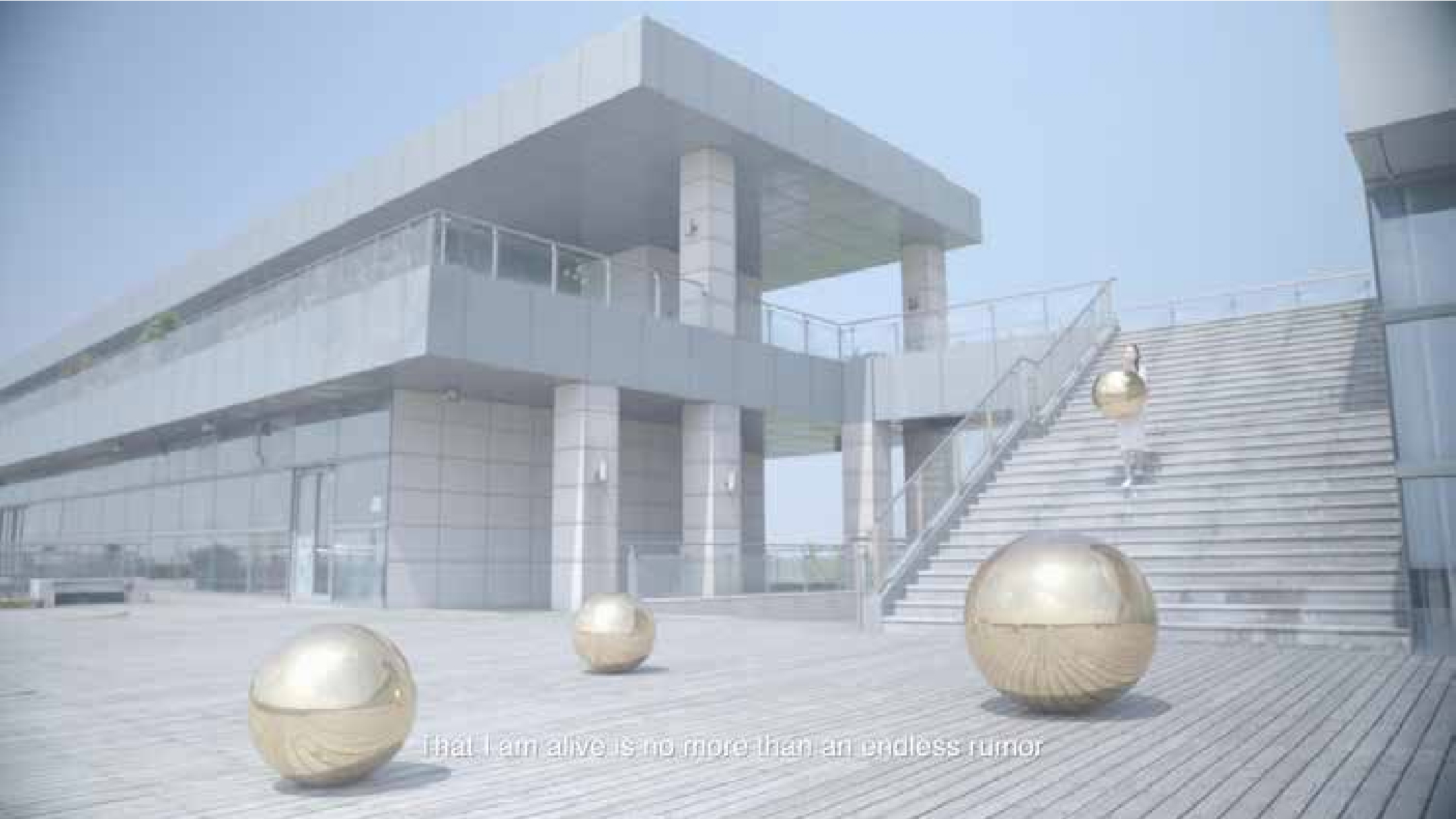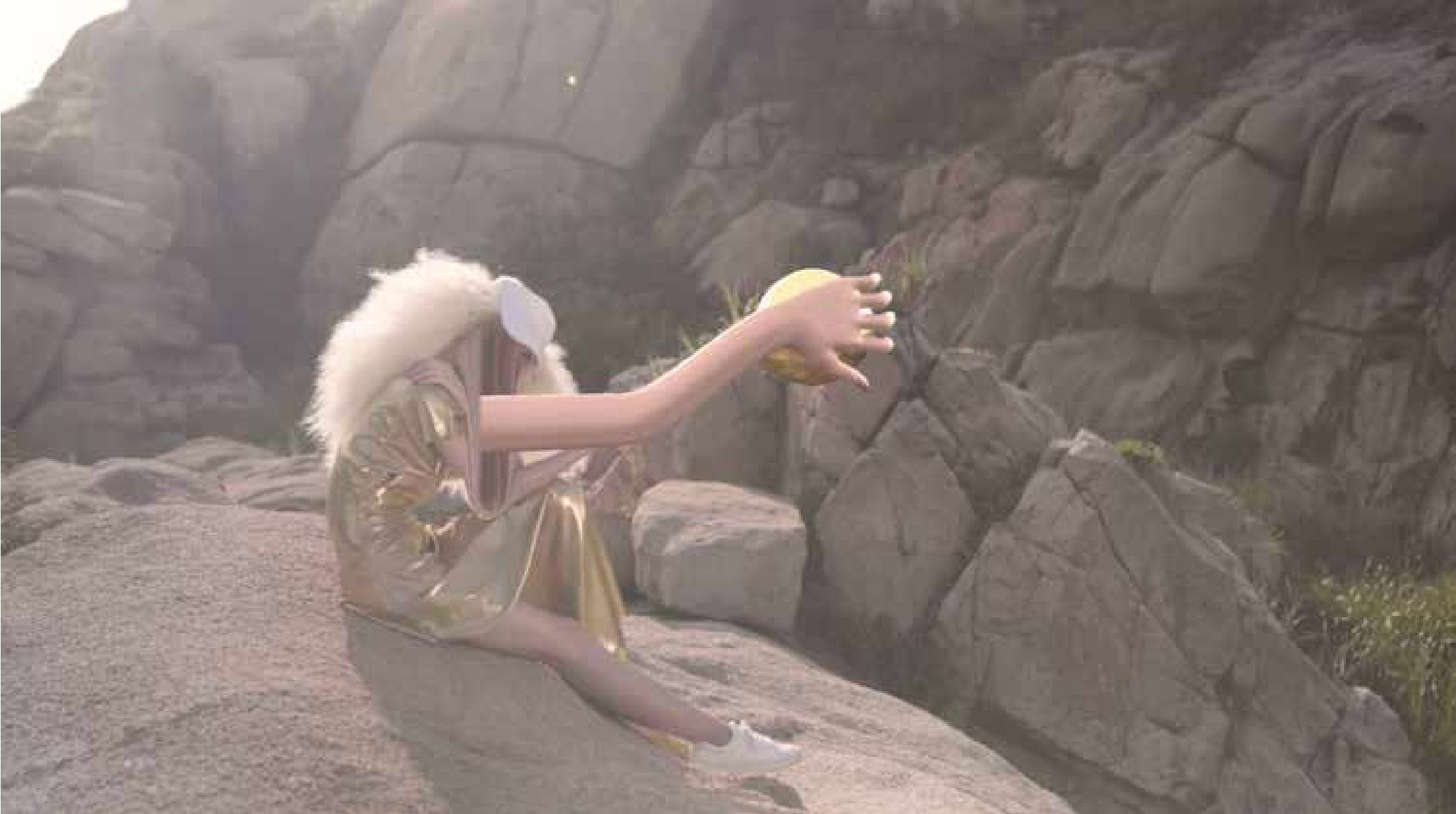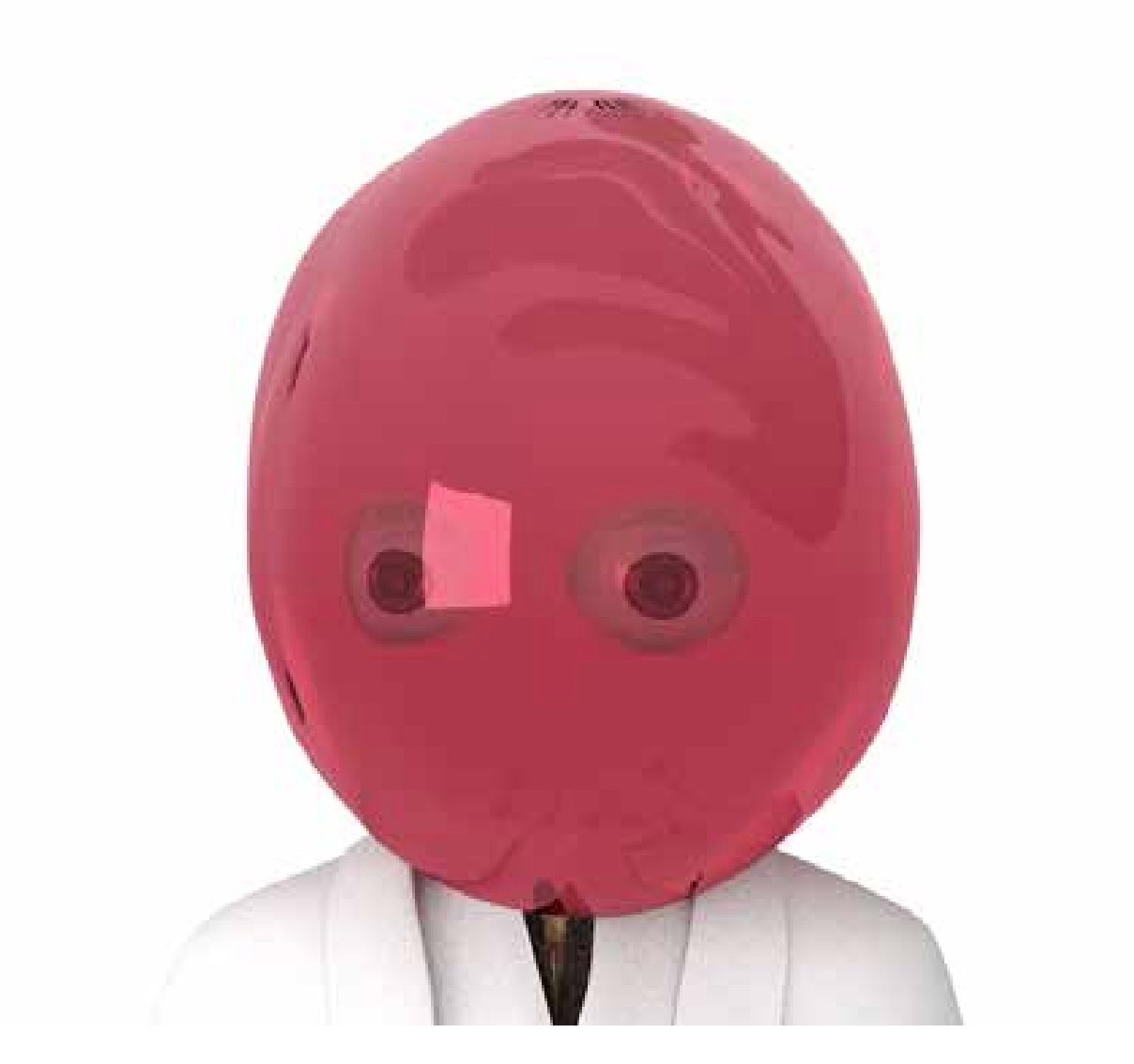 PINK SLIME CAESAR SHIFT: GOLD EDITION, 2019 - 2020
This variable installation builds from Method #2: gold biolistics. We used gold biolistics, gold microparticles shot into beef cells with an air gun, to successfully introduce a new string of synthetic DNA into the living beef cells. These cells now carry encrypted text on methods of nonviolent action in their DNA, and are identifiable from unaltered beef cells by their yellow fluorescent glow, visible under UV light.
In the process of this lab work, I became very curious about the source of the gold microparticles. It turns out that as industrial gold, it is not arriving straight from any gold mine, but is instead sourced through multiple recycling streams, including e-waste: discarded smartphones, computers, monitors, printers, etc. In other words, the very electronic items sickening workers in their assembly in China, would return to the same region years later, sickening workers in their disassembly in China. The gold travels all over in the world, returning to the same site to deposit its toxicities over and over again.
In Gold Rotation (Dance), choreography was built on the gestures of human workers and motorized machinery in gold e-waste recycling, in combination with accounts of industrial poisoning, such as Itai Itai disease, a collapse of the skeletal system due to cadmium exposure in women. Five dancers, embodying different roles within the process, go from motherboard extraction (crushing), to acid baths (churning), to burning and melting final gold extracts while disposing of liquid acid effluent and fumes (merging and ventilation). Simple choreographic loops and audio sequences build to emphasize the systematic nature of industrial processes, while human bodies undulate in tandem. The basic hand tools used in e-waste recycling - pliers, hammer, rake – are transformed into electro-brassed steel props. Visual and material excess testify to the psychopolitical excess sublimated by industrial jargon.
Pink Slime Caesar Shift: Gold Edition (Installation) are the remainders of this performance, displayed alongside Gold Edition paintings and/or neon sculpture. Costumes and props are hung on steel rolling racks in pink gradients, an inflatable gold suit bulges from a tube of pink steel. One rack has the letters "VOGU" cut out – and nearby paintings all are headed with "VOGU" in the familiar font of Vogue Magazine. a visual joke on the idea of mutation, changing one's nature for political and ecological survival, and gaining a syllable by dropping the "E" in Vogue. In these paintings, hands prod and poke, hard at work amongst exaggerated forms from the Gold Dance and stacks of pink disks (hamburgers?) with faces on them - product or protagonist, depending on perspective.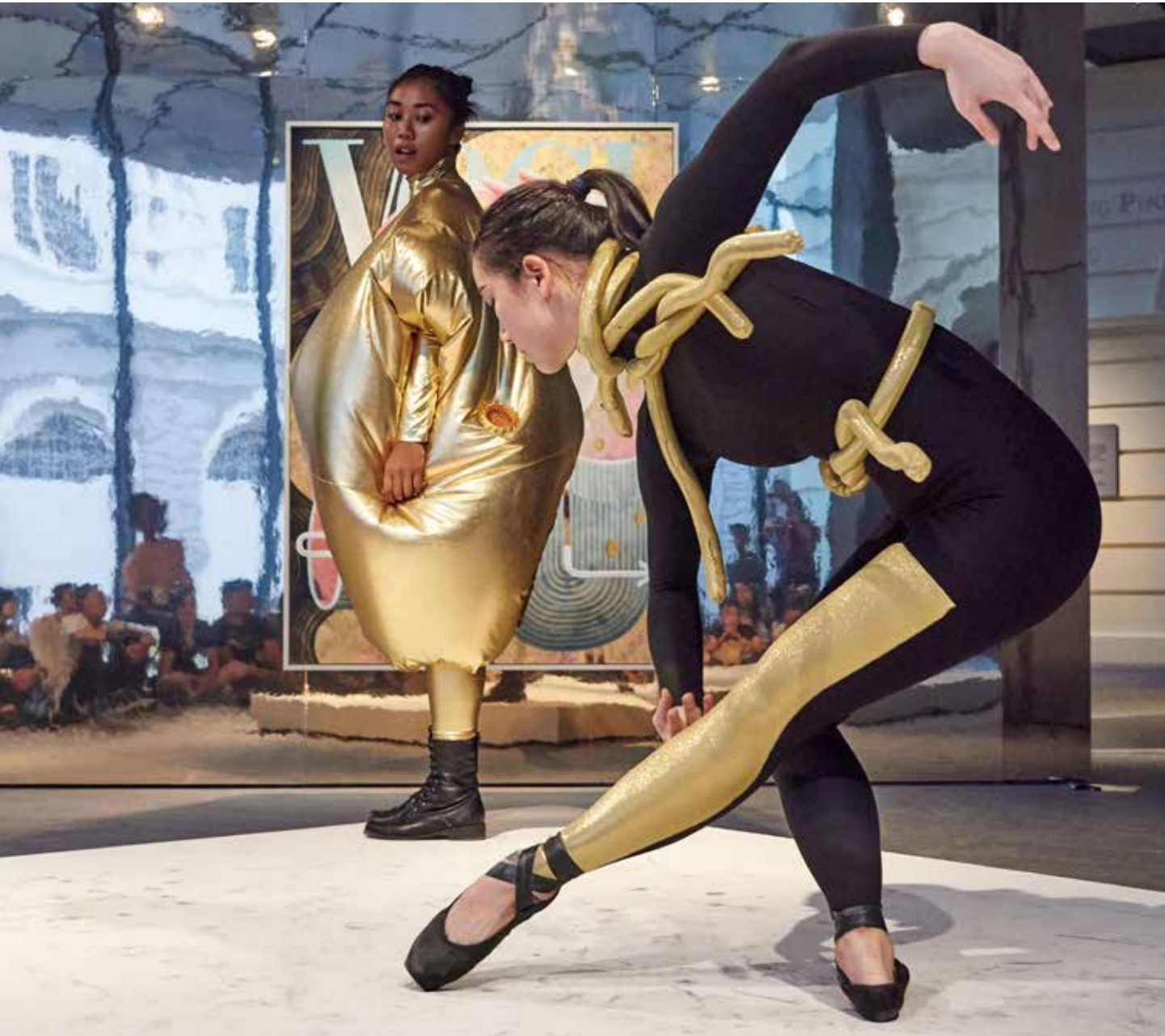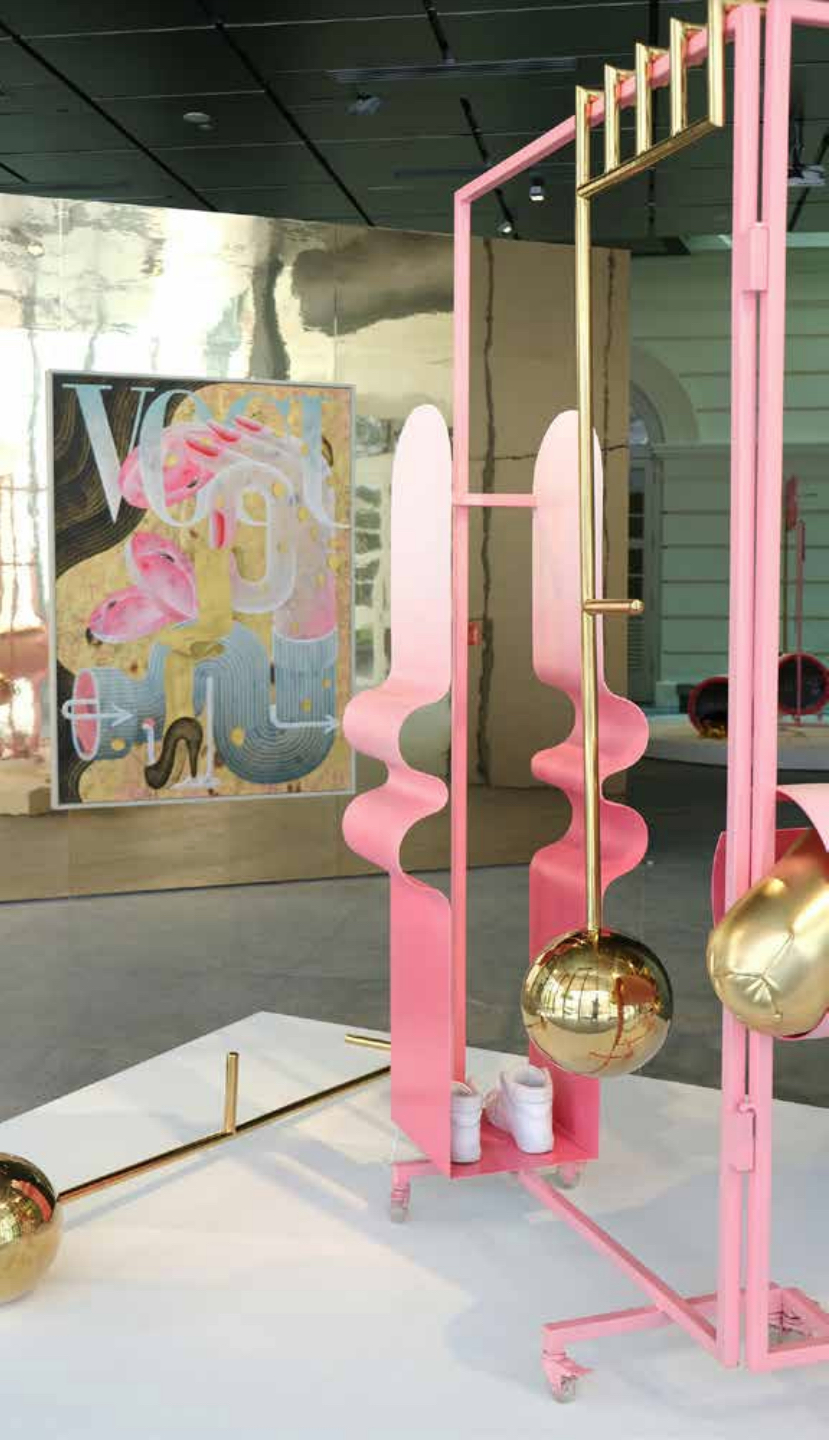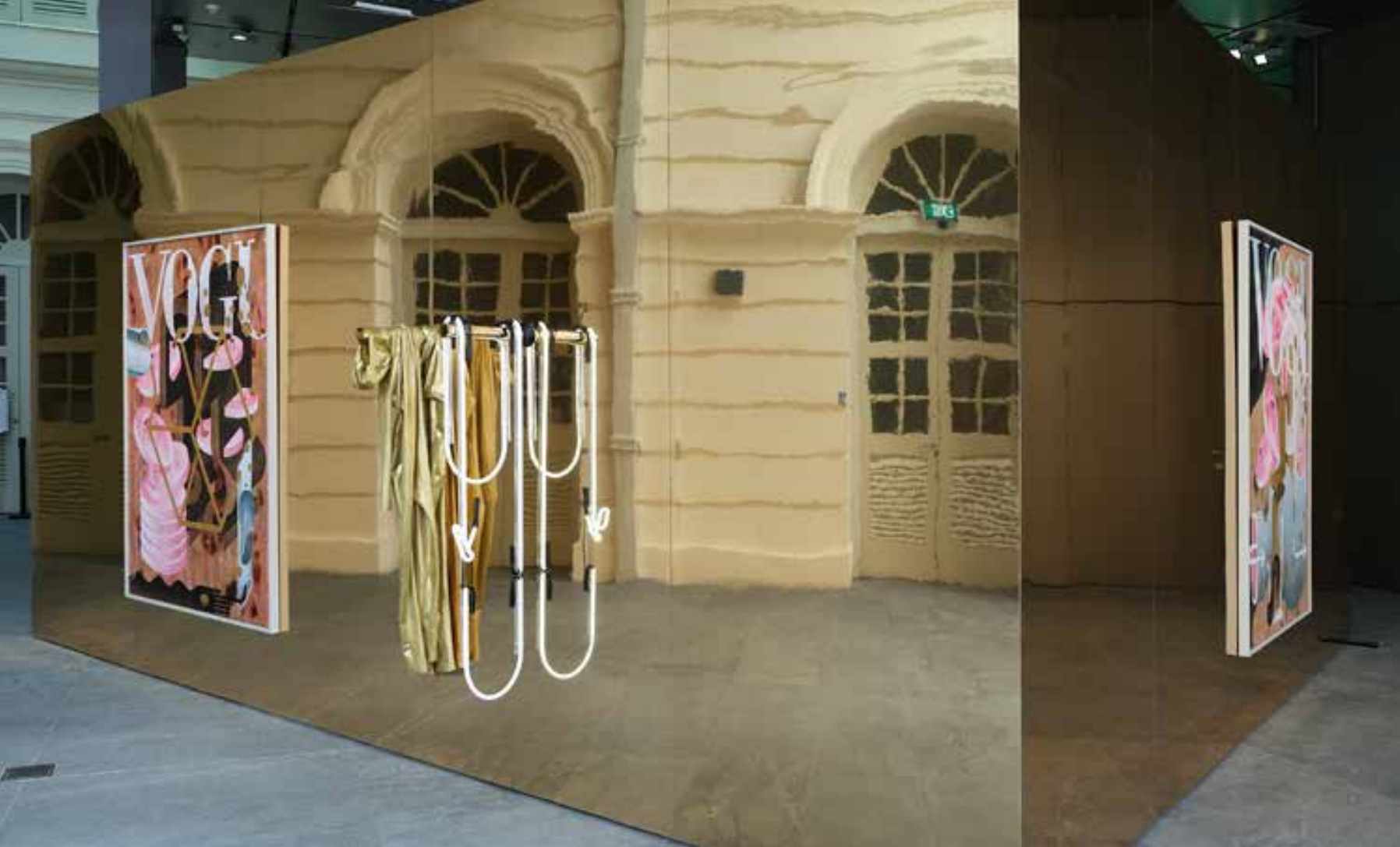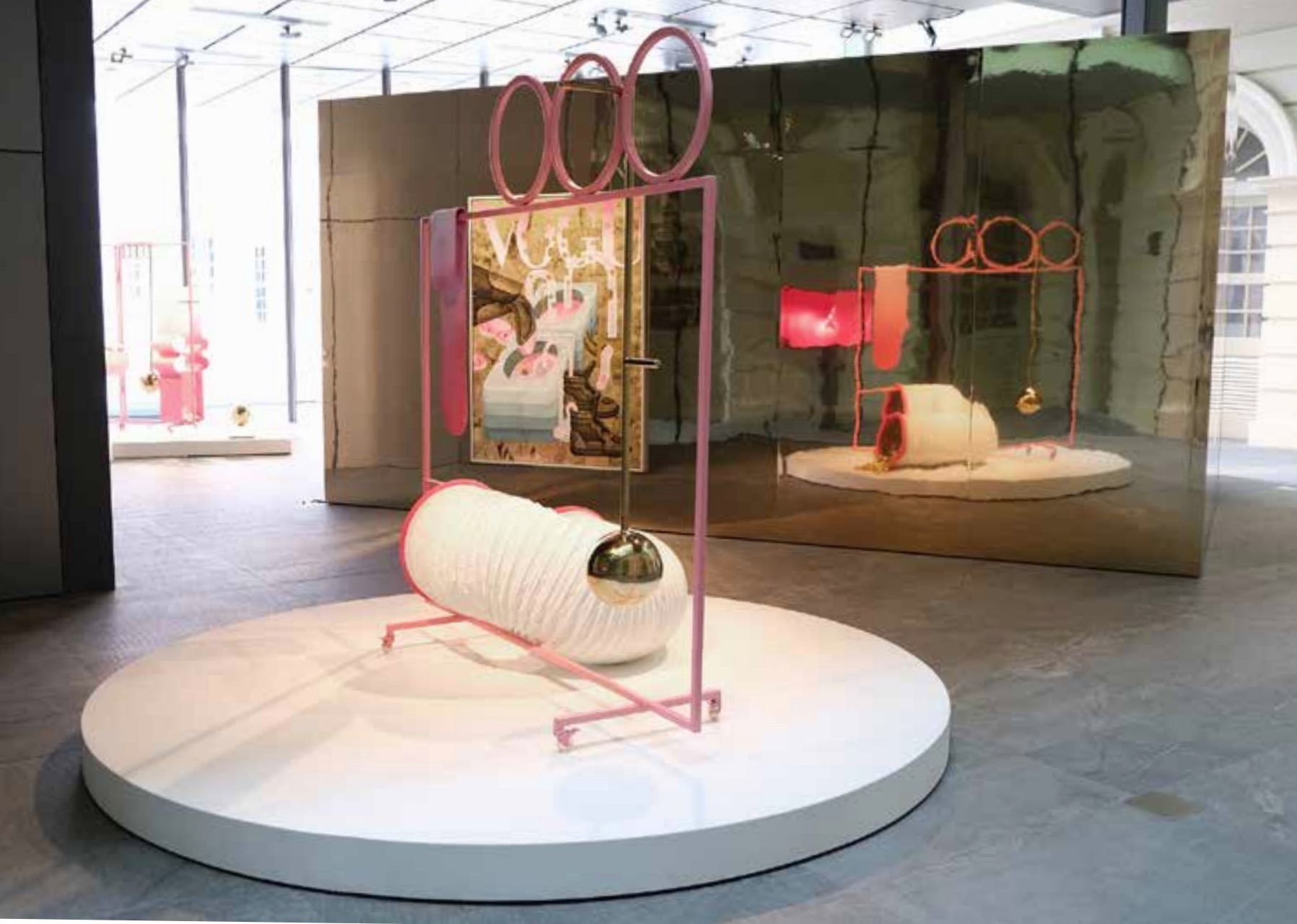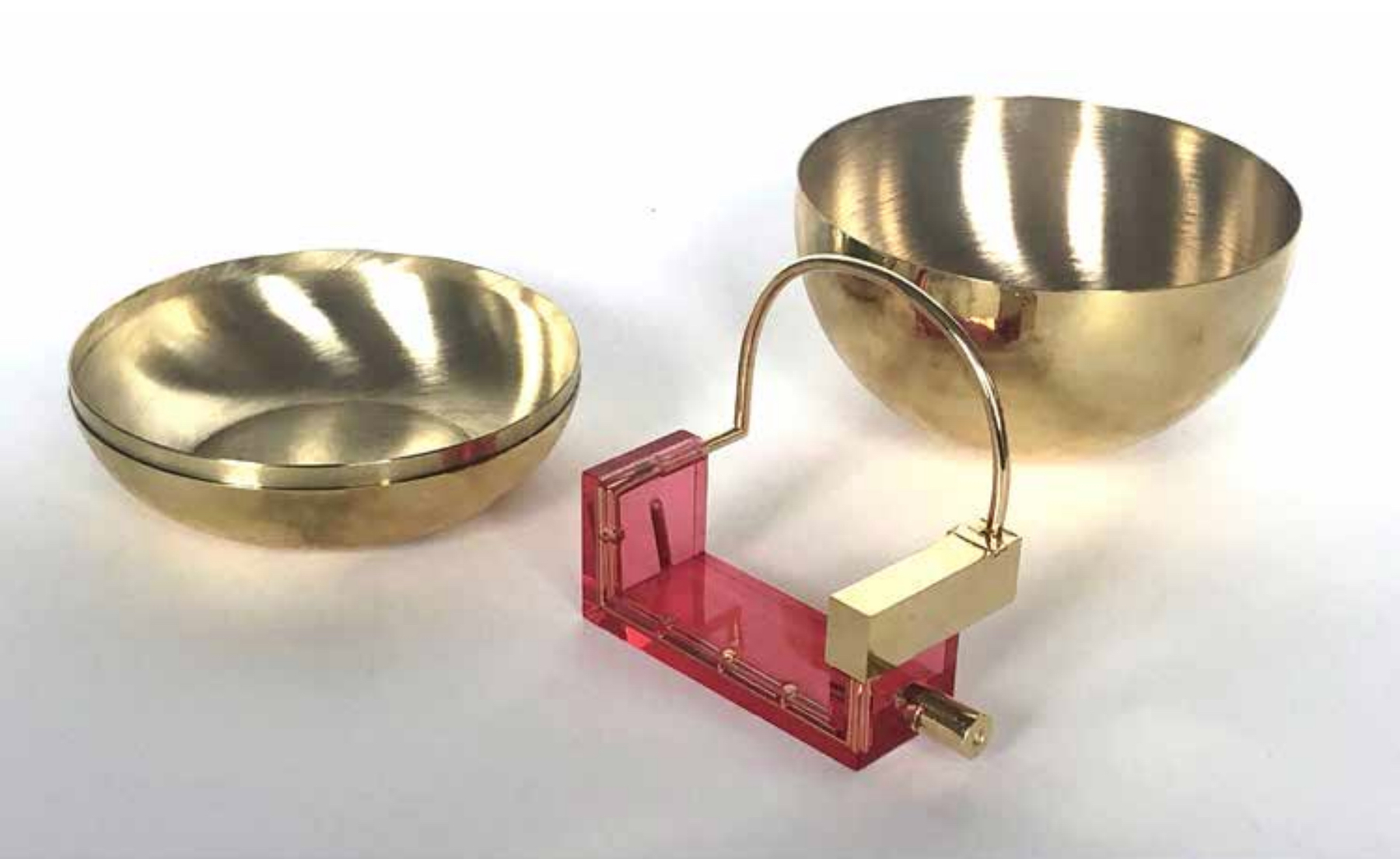 PINK SLIME CAESAR SHIFT, METHOD #2 CARRIER: ANTI-STATIC COLLECTIVE DISAPPEARANCE 2019-20
Brass body with adjustable rotating clasp, with hollow brass capsule containing synthetic DNA on blotting paper, embedded in cast acrylic
Edition of 6
More info: https://unframed.lacma.org/2020/01/23/pink-slime-caesar-shift-conversation-jen-liu%E2%80%94part-2
This wearable sculpture/bracelet is a functional redesign of an anti-static bracelet, as commonly worn by electronics factory workers. The bracelets, normally made of aluminum, plastic, rubber, and/or spandex polyester, electrically ground the workers, so they don't generate static shock, potentially frying the circuits of the products they are assembling. They also monitor the movements of the workers: the grounding stations the bracelets are plugged into often record when the workers step away from their work — on unauthorized bathroom breaks, for instance. This information can be used to reduce pay to the bare minimum of working time recorded, down to seconds.
Here, they are made of pink acrylic cast around a gold-plated brass circuit with fine manual mechanisms for customized fit, skin contact points, and a connection port that can be retrofit to work with existing electronic grounding circuit boards. In accordance with the greater narrative of Pink Slime Caesar Shift, this bracelet contains genetically modified cow muscle cells containing data of particular interest to labor activists in South China — within gold-plated brass capsules embedded in the acrylic, that separated it from the static circuit (thus inert).
The cells contain synthetic DNA in two parts: the first part initiates the production of yellow fluorescent protein, which makes the cell identifiable under a fluorescent microscope. The second part is a lightly encrypted text which lists 40 historically proofed methods of non-violent protest from the Einstein Institute.
How do we know the state of labor today, aside from images of spectacular exploitation, operatic images of poverty and suffering? The visual excess of the bracelets are a tribute to the everyday glamour of these factory workers, femme fabulousness despite a limited range of social and economic possibilities. Many in the West have a skewed version of what workers look like today, they prefer to maintain mutual visual exclusivity between industrial labor and first world consumption. This echoes the false separations of political, economic, and cultural consequence between East and West. We know labor through quotidian objects: beautiful/banal, cute/exploitative, simultaneously.
As with everything in Pink Slime Caesar Shift, an aesthetic of toxic femininity, pink tax, overproduction, and excesses of capital expenditure is exemplified — the symptoms of gendered precarity. While this bracelet isn't the simple band and coil of the original, it's a signal boosting through candy coating — the logical heart of Pink Slime Caesar Shift.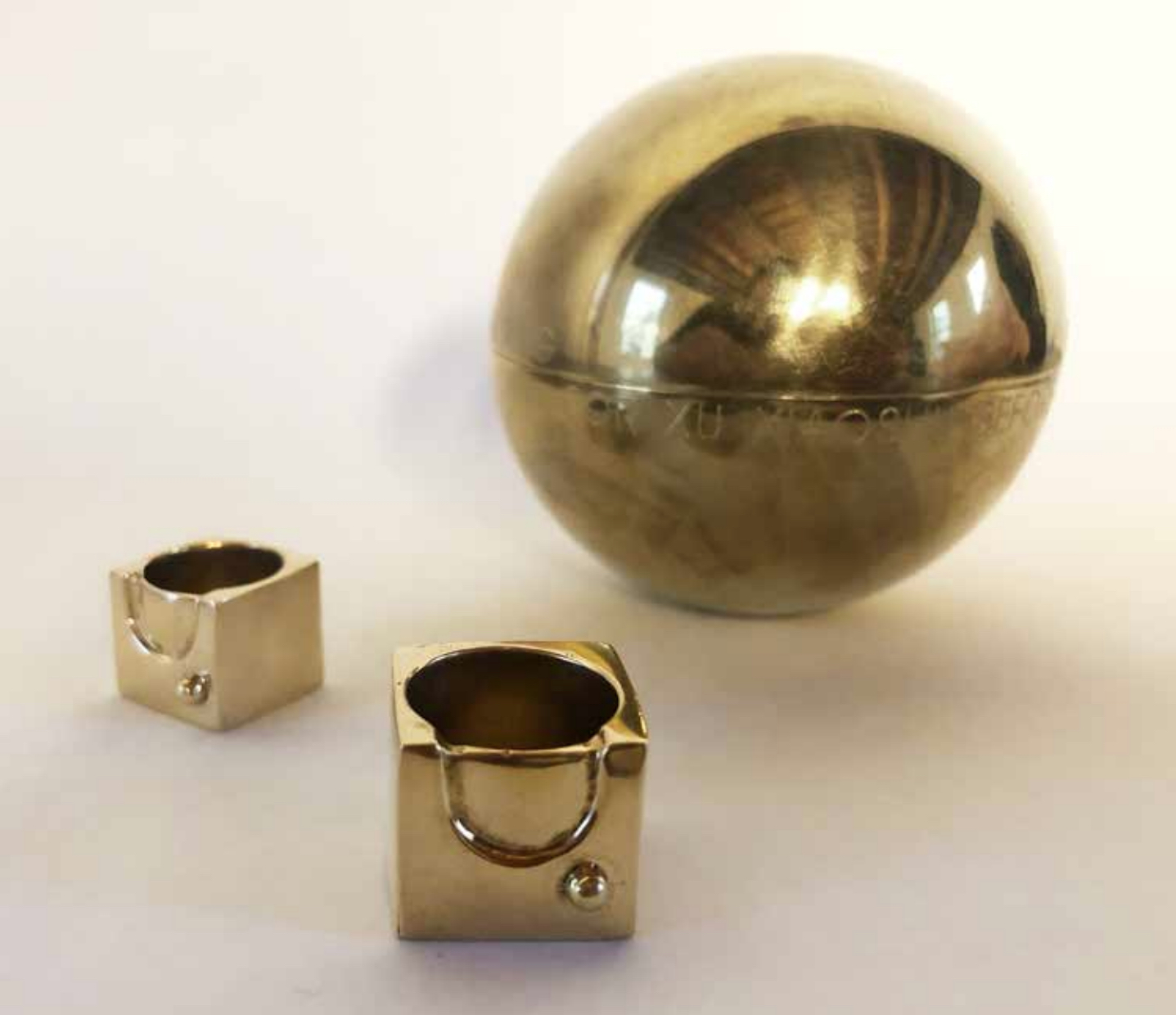 Brass ring in edition of 6 with 2 AP's
These brass upper-knuckle rings contain beef cells encrypted with a DNA message, identifiable by their green fluorescent glow. The message translates as the last words of Qui Jin before her execution in 1907, and current Chinese labor law on the rights of injured and poisoned workers during the processes of diagnosis and compensation. These cells cling to powdered quartz crystals, kept safe in a small chamber stoppered for future drawing out and distribution.
In the animation accompanying the ring, I try to consider what it might be like to be a cell trapped inside a ring: a message with a maker but no owner, meant for a faceless someone, in an unspecified future. This also exists as a 360 video, playing off the radical loneliness of 360 headsets, navigating a world of things you see but cannot touch, being a ghost in a world of stock footage and digital cutouts.  
Single-channel 4K video
Running Time: 24:20
Pink Slime Caesar Shift is a video integrating live action and animation, whose premise is four proposals to alter the DNA of mass-produced in-vitro hamburgers to carry secret messages of labor insurrection on behalf of Special Economic Zone factory workers in China.
In the last decade, labor protests have increased in China, but they remain brief and localized, due to the government's clampdown on social media. Large scale labor organizing is stymied by the inability to communicate across distances. Meanwhile, China's resource capacity has maxed out, and shortages of beef – resulting in counterfeit beef scandals and imbalanced international trade deals– have become commonplace.
If the solution to the latter problem – meat shortage – is the production of synthetic meat originating in cow stem cells (already in development), its workflow would be ideal for solving the former problem – creating channels of communication for political organization – through altering the meat's DNA as a data carrier. I have identified four feasible methods to do so – and will be developing biological samples exemplifying these methods throughout 2018.
One resource problem resolves another: new methods for grassroots communication via food distribution networks, attends a new source of meat for the table. But the video itself is a message carrier, connecting the speculative proposal with the reality of SEZ workers today. Each "method" speaks of various facets of the so-called Floating Population, legal and medical fugitives to a system that renders their bodies a secret subscript to global industrial production. To that end, I have translated and integrated multiple worker education documents, weaving it in amongst scientific equipment sales pitches, documentary recordings, and poetics on intimate estrangement.
PROSPECTUS:
Below are basic principles guiding each proposal, specificities of context and methods of detection/decoding will be modeled over the coming months.
PROPOSAL 1/4: Fluorescent markers for long-term DNA data storage of documents on official labor policy and legal case histories. Often workers do not know their legal rights, making them vulnerable to exploitation.
PROPOSAL 2/4: Microinjection of middle-length documents about labor advocacy organizational structure. Often workers do not know who to reach out to, should they need an advocate, or to spread information and organize direct action.
PROPOSAL 3/4: Biolistic delivery through gene gun: shooting microparticles carrying messages of strike and other methods of large-scale protest in a semi-timely manner at a later stage of production.
PROPOSAL 4/4: Transfection through virus: introduction of "flies" into the "ointment". Despite needs for large-scale networks of communication, there is still need for smaller-scale channels: in this case, to pass word between workers in a regional zone to undertake a campaign of insurrection: breaking water towers, cutting power lines, and other acts of productivity subversion.  
CREDITS
Direction, Props, Sound, and Editing
Jen Liu
Director of Photography
Daisy Zhou
Second Camera, Audio Engineer
Sam Richardson
Production Assistant
Soo A Kim
Bionaut
Mini Zhang
Lab Workers Internationale
Ziyi Li
Ingrid Zhang

SEZ Stalkers
Kathy Cho
Shoko Fujita
Nina Ki
Ziyi Li
Fredi Lumyi
Ingrid Zhang

Voiceover
Corey Tazmania

VOICEOVER TEXTS (IN ORDER OF APPEARANCE)
Anne Carson, Red Doc>, 2013
Sentience Politics, "Cultured Meat: An Ethical Alternative to Industrial Factory Farming", 2016. sentience-politics.org/files/cultured-meat-revision.pdf
Benjamin Bratton, The Stack: On Software and Sovereignty, 2016.
PHYS.ORG, "The mysterious 98%: Scientists look to shine a light on the 'dark genome'", February 3, 2017. phys.org/news/2017-02-mysterious-scientists-dark-genome.html
Promega, "NanoLuc® Luciferase: Redefining Reporter Assays", 2017. promega.com/resources/technologies/nanoluc-luciferase-redefining-reporter-assays/
Worker Empowerment, A Better Life for the Workers (internal education materials), 2016. workerempowerment.org/en/
Corey Tazmania, couples counselor for Tarkovsky's Stalker and wife (studio improvisation), 2017. Tom W. Bell, "How Special Economic Zones are Quietly Advancing Freedom," Foundation for Economic Education, April 11, 2017. fee.org/articles/how-special-economic-zones-are-quietly-advancing-freedom/
Aihwa Ong, "The China Axis: Zoning Technologies and Variegated Sovereignty," Journal of East Asian Studies

The Pink Detachment is a reinterpretation of The Red Detachment of Women (1970), a Model Opera ballet from China's Cultural Revolution. In the original, a peasant girl joins an all-female military detachment, takes revenge on her despotic landlord, and produces Revolution. This ballet and its many variations was a ubiquitous propaganda piece in its day.
Can such a fraught archival document be re-motivated, beyond kitsch?
This piece proposes that re-motivation is possible, but only through major revision. First, the peasant girl is replaced with an accident-prone, inefficient meat worker. Second, the wise martial leader is replaced with a ballerina-manager that provides the solutions to the worker's problems. She provides new tools – for meat and bone grinding – while resolving the inequities of wealth and resource distribution through the factory-produced hot dog. Military overthrow (Red) has been replaced by manufactured equivalence (Pink).
Within this revised framework, portions of the original music and choreography have been preserved. It has been re-engineered to fabricate continuity between the brutal fantasy of the past and the resource problems of the present. Parallel positions emerge from the color equation, Red + White = Pink. The first position is the old term "pinko" – a Communist (Red) who has assimilated Capitalist bourgeois models (White), to create a "watered-down" compromise (Pink). The second position is a speculative solution to China's crises in meat supply, by valorizing the integration of "undesirable" pig parts with the "desirable" portions in the hot dog. And the third position proposes the pink of femininity not as a "natural" fleshy softness, but rather as a synthetic, potentially violent, hybridity.
  CREDITS
Direction, Props, and Sound
Jen Liu
Director of Photography
Maria Rusche
Second Camera
Sam Richardson
Production Assistant
Hoi Cheng
Accident-Prone Worker
Katharine Liu
Manager Ballerina
Mayu Oguri
Company Dancers
Eli Condon
Jasmine Hong
Nathalie Encarnacion
Maura Harris
Sorcha Fatooh
Voiceover
Corey Tazmania
Isabelle Zufferey Boulton
VOICEOVER TEXTS (IN ORDER OF APPEARANCE)
Cixin Liu, The Three-Body Problem, 2014.
David John Farmer, "In the Pink!" Administrative Theory and Praxis, Vol. 25, No. 3 (September 2003).
United States Department of Agriculture (USDA) Food Safety and Inspection Service, Code of Federal Regulations: Title 9, Volume 2, Part 319 – Definitions and Standards of Identity of Composition, 2012.
Lewis Mumford, The Myth of the Machine, Volume II: The Pentagon of Power, 1970.
Isabelle Zufferey Boulton Imagines A World Full of Pink: edited narrative improvisation, 2015
THE PINK DETACHMENT PAINTINGS (2015 – present)
The Pink Detachment paintings depict a series of large feminine fingers pushing and prodding, wielding their pressure power upon a multitude of semi-abstract objects and bobbed head-bots.
The imagery draws from various forms of contemporary "empowerment" that depend on complex structures of manipulation and economic control: from the psychic functions of Drunk Tank Pink, to the "Charm Offensive" Soft Power tactics of Asia's international relations, to the Multi-Touch power fingers of Mac's tutorials, to the supposed triumph of Affective Labor in the last decade. Heteronormative gender constructions and its extension into racial, national, and economic perceptions are evident, and yet, often go under-acknowledged, even when each of these aspects are admitted to function differently for different social groups.
Through exaggeration of these concepts and visual absurdity, these paintings ask about what we define as power today. Further, they posit that power-made-visible can only be as cartoonish as a bunch of disembodied fingers pushing things around. The wielding of power itself may be so intentionally invisible and ubiquitous, such that nearly every structure and gesture unavoidably supports models of privilege and access, that its locatability as an image is itself an absurd proposition.
On the other hand, these might be paintings about a proposal for the future of power. If media accounts are to be believed, the inevitable push towards soft power and affective labor – ie the push East and towards female-dominated service labor – make it such that perhaps these are portraits of the world to come. Each painting is a window out to a world of pushy female fingers, the horizon itself washed in emotionally controlling hues.
THE RED DETACHMENT OF WOMEN - PERFORMANCE

////// Final dress rehearsal on July 11, 2015 ///////
The Red Detachment of Women is a celebration of two worlds that almost exist. The first is a tropical paradise inhabited by female soldiers, as imagined in Madame Mao's The Red Detachment of Women (ballet film: 1970). In her Red Detachment, a peasant girl undergoes a political awakening: the homicidal rage directed at her landlord is tamed, and she becomes a regulated, productive military agent. The second is an all-women state-of-the-art industrial pork processing plant, accommodating both Chinese factories' preference for female workers with the latest in scientific management techniques.
This is a choreographed piece for six dancers, functioning simultaneously as a performance for a theatrical audience as well as a training manual for workers-soldiers that have almost arrived. Props, costumes, soundtrack and 3D-animated backgrounds blur the line between past and future, bridging China's revolutionary imaginary and its projected economic future. An emphasis on perfect coordination and staggered synchronization implies a social machine so well designed it needs no leader. At the core of this piece is the systematization of violence for the purpose of greater productivity: whether in the production of revolution or in the production of edible goods. Exaggerated geometry and saturated reds and pinks literalize the act of systematization.
This piece poses a series of questions, such as: what is the relationship of social memory to social forgetting? How does selective memory, shaped by trauma manifesting in effects such as linguistic slips, generate new meanings - "Red Detachment" as military corps as well as the bloody disassembly of a carcass? What are the comparative optics of a revolutionary model versus a Fordist model, and is there any possibility of continuity between the two?
This piece was made with the generous support of Triple Canopy and The Whitney Museum of Art, and premiered on July 12, 2015 in a 3-person program called "Pattern Masters" which included new commissions by David Horvitz with Susie Ibarra, and Lucy Raven.
(Excerpt): This illustrates a key concept of the period: Military triumph produces prosperity, social order, international prominence, and gender equity by totally obliterating the old order. The ballet is remarkable for its synchronization of large numbers of female dancers, which makes visible the country's efforts toward extraordinary cultural coherence. The ballet also features groups of factory workers moving in unison, the symbolism of which seems more difficult to parse given the social conditions that now characterize China, and the role of American consumers in the country's industrialization.

In one of the ballet's key sequences, peasants are so grateful for their emancipation that they offer soldiers heaving baskets of food, kneeling in adulation. However, military victories did not actually grant the masses regular access to food; top-down policies stymied agricultural output, and martial regimentation stalled efficiency. The resulting famine was one of the greatest tragedies of the twentieth century.

China's political and economic landscape has changed, but scarcity of resources remains a problem. Since 2005, there has been a near-continual pork shortage in China, which is particularly painful because pork is the traditional meat of China. (The visual root of the pictogram of jia, meaning "home" or "family," is a pig protected by a roof.) Demand rises as the population swells and living standards increase, and because of a peculiar trend: Newly minted members of the middle and upper classes cover their dinner tables with plate after plate of meat; a small fraction is eaten, and the rest is ostentatiously discarded—an aesthetics of affluence composed of heaps of fleshy trash....
THE MACHINIST'S LAMENT, 2014
HD VIDEO
Running Time: 17 min, 47 seconds

Factories will bring back money.
Factories will bring back jobs.
Factories will make everything fit again.
In factories, everyone has their place.

Western industrial production is a site of magical thinking: an old history that will never return, an idealized construction that never really was. It's impossible to know what the true costs would be if it were to return - societal, environmental, and psychological – and yet, entire political campaigns are built around this.

This piece speculates on re-industrialization, and is a sequel to my 2013 video, Safety First (Bad, Don't Touch, Mercy!). Like its prequel, it posits a non-specific future populated by female factory workers. The geometric aesthetics of power and the romance of industrial-era alienation, are paired with theoretical and fictional texts about alternate social economies.

Video footage was shot in Ohio, animation and soundtrack by the artist. Voiceover text sources include Industrial supply catalogs, OSHA safety manuals, Monique Wittig's Les Guerilleres, and Adorno's Minima Moralia.
SAFETY FIRST (BAD, DON'T TOUCH, MERCY!), 2013
HD Video
Running Time: 15 minutes, 20 seconds
In split-screen. a factory laborer is at work, one representing good, the other, bad. Safety conditions are violated by the bad worker - and then dream sequences bring to life Romanian factory safety posters from the 1970s.
Shot in various locations in Northeast Ohio, including the Frank Lloyd Wright Penfield House. This is a major Rust Belt region, whose history is defined by Fordist production, and whose future is framed by its hoped-for return.
If the future campaign to bring industry back to the "first world" is successful, media must address forgotten safety concerns - SAFETY FIRST is a piece of speculative fiction. But how far in the future will this be, who are the agents of this change: what is their culture, language, and perspective? Just in case, geometry, video image, and sound have displaced verbal commands. And at the end, a nature-fugue provides a respite from the drudgery: a worker's vacation.
CREDITS
DIRECTOR, ANIMATION, SCORE, COSTUMES, PROPS
Jen Liu
DIRECTOR OF PHOTOGRAPHY
Jake Hochendoner

GRIP/GAFFER
Nico
Linus Ignatius

ASSISTANT DIRECTOR
Shawn Kerns
LEAD DANCER / CHOREOGRAPHY CONSULTANT
Tracy Pattison

DANCE CAPTAIN
Marcia Custer

COMPANY DANCERS
Ashley Lain
Brittany tosatto
Nina Price
Shayna Fischer
Michelle Brown
Danielle Stevens
Laiana Lewis
Alyssa D'Amico

SPECIAL THANKS
Andrea Shearer
Paul Penfield
Tracy Marie
Joan Meggitt
Haze Productions
Joshua Talbott
Ryan Sovereign

THE FLOOR MANAGERS & DIVISION MANAGERS, 2013 -
What is the face of power?  In the contemporary global moment, it has many faces, and the higher one ascends, the less visible the face becomes – it is everywhere and nowhere. 
When we call for industrial production to come back to the West, it's a nostalgia-dream for a simpler world, one in which everyone would have a place in the economic machinery, and power relationships would be paternalistic, visible, and negotiable through organization.
Here are a series of masks, designed for some future in which industrial production has been successfully brought back to the West.  They are meant to ease the discomfort of transition from one power model to the other: from faceless outsourced management to localized industrial management.  Inspired by the sentries in Fritz Lang's METROPOLIS (via the avant garde's embrace of the African mask), they exist to dispel any confusion about who is in charge, soothing the frayed nerves of the post-Fordist citizen falling back into the Fordist fray.   
INITIAL PUBLIC OFFERING OOOO (IPOOOO) - 2012
Initial Public Offering OOOO (IPOOOOO) is composed of black ink drawings, video, sculpture and performance that present a fictional-futuristic agrarian-urban society. It is a new society split off from our own, initiated by the desire to overcome the cultural polarization that paralyzes our own. Through the study of Pierre Leroux's "Circulus", in which equality and human manure were the two key elements of utopia, a new system of value is created. In the future, when all other forms of value have proved to be arbitrary and divisive, shit is the only thing left of provable productive force, uniting all.
Initial Public Offering is the moment at which a company goes public, split into numerous shareholders. By this Liu proposes a transitional moment of the new society, in which an initial utopian consensus model was successful, so much that consensus alone is no longer sufficient to organize the rapidly growing society. Intimations of political force and monetization start to emerge, as they struggle to maintain productivity and order. 
Thus Liu presents her series Master O-Note, that draws from Ootje Oxenaar's currency designs to create a "zero-value" note, which citizens convert their shit for, and thereby set the stage for the re-enactment of capitalism. Several other large scale ink drawings in the exhibition imagine the thinking, priorities and aesthetics of this society. They are as visually transitional as the society itself – a multitude of sources and styles work with and against each other, unified only by material.
Two videos explore the possibilities and drawbacks of this world. In Bottoms (OnO), a series of butts with faces painted on them march in place. A tribute to Yoko Ono's Bottoms, it imagines a society in which equals walk towards a future of their own making. BBBitches! is constructed of stop-motion, 3D animation, and found footage set to a soundtrack of "estranged" audio, as a transmission from a world that has evolved beyond our understanding.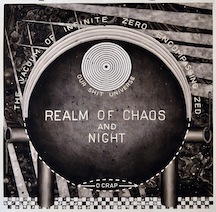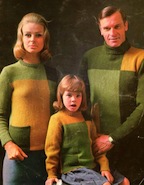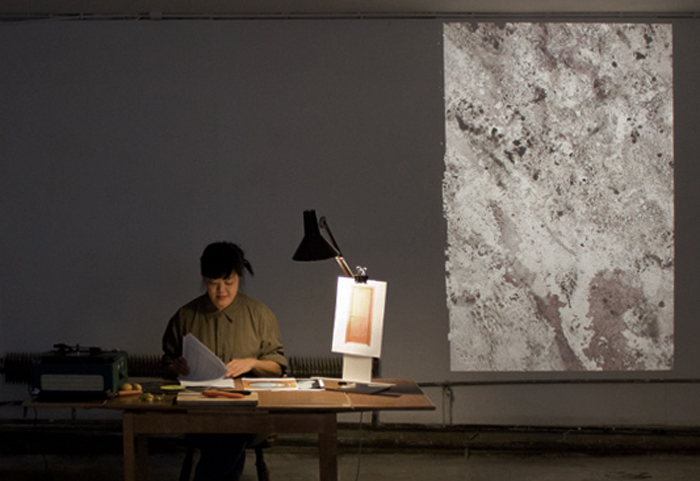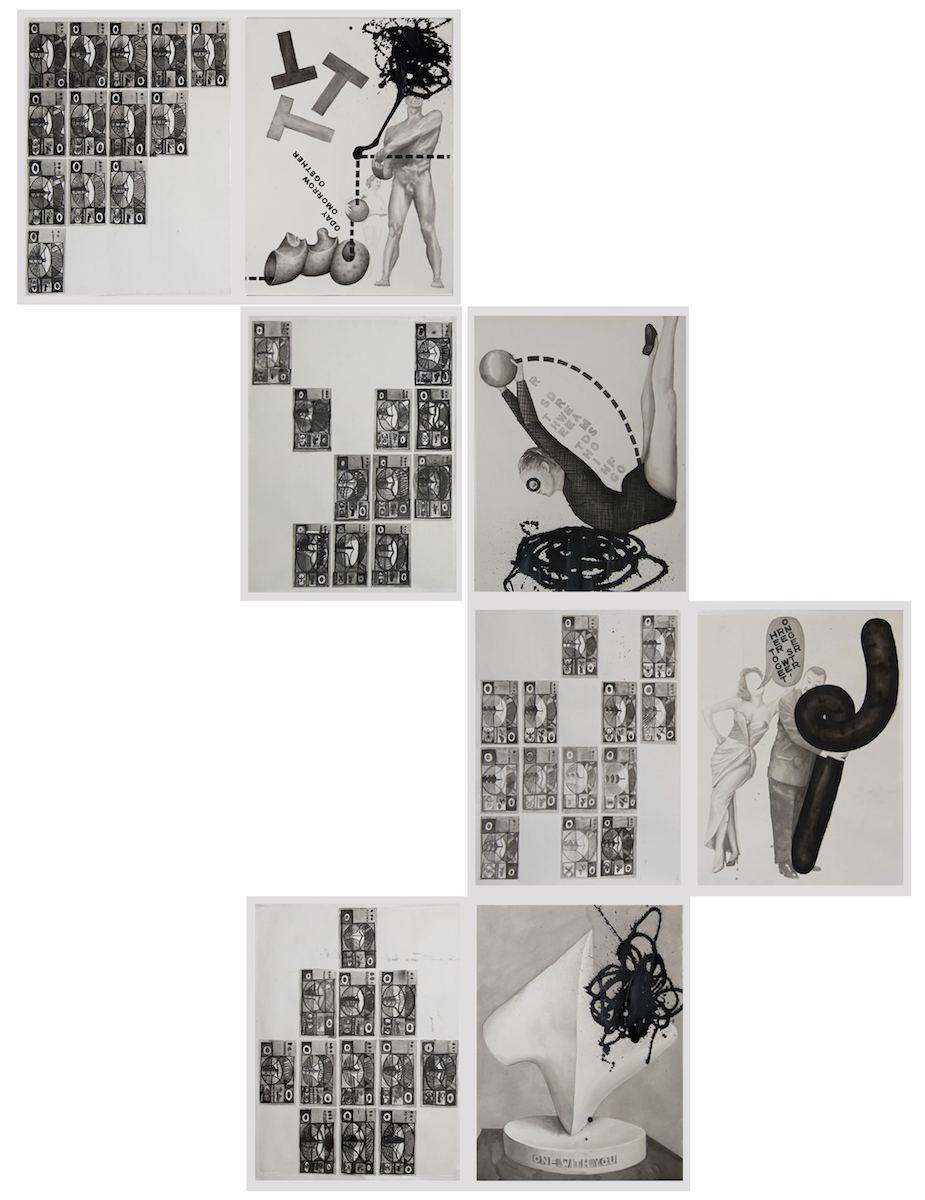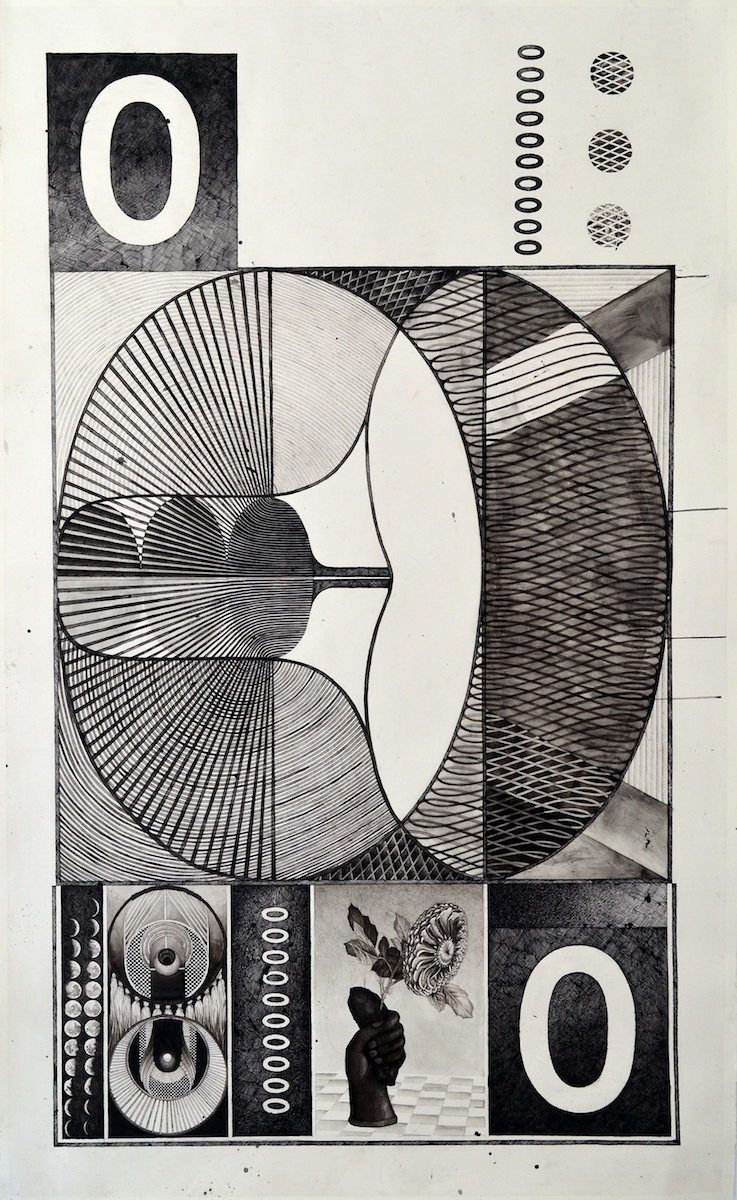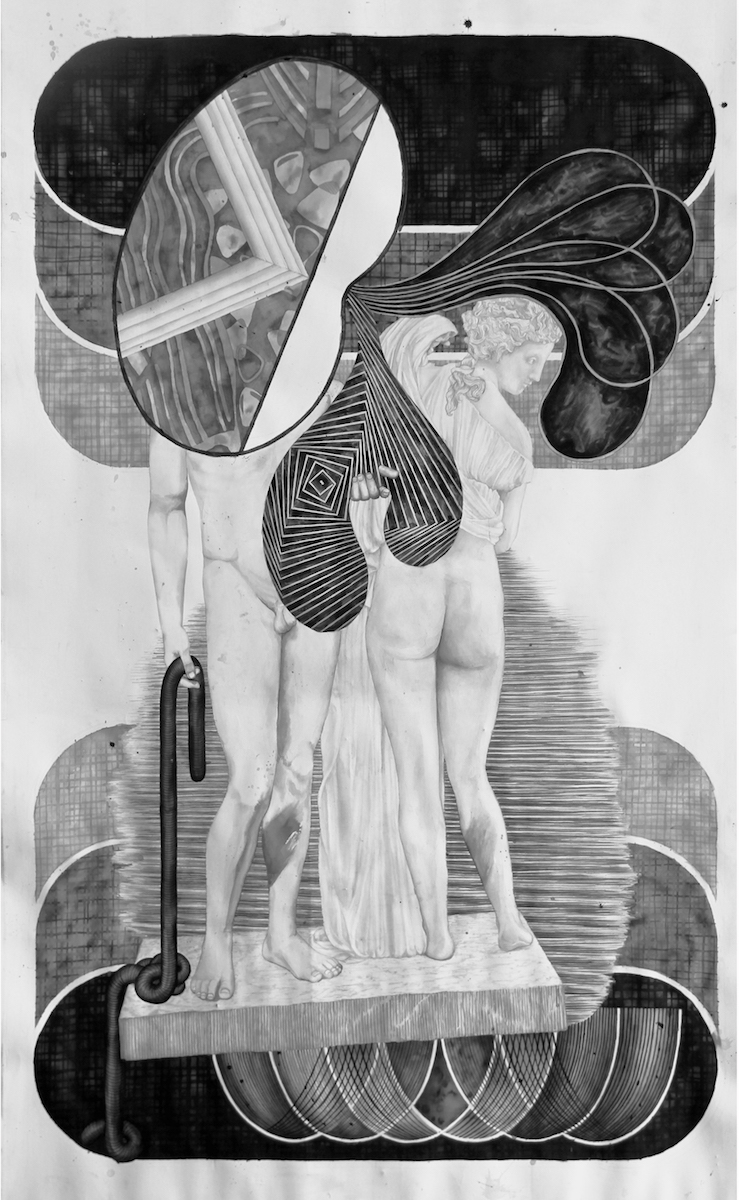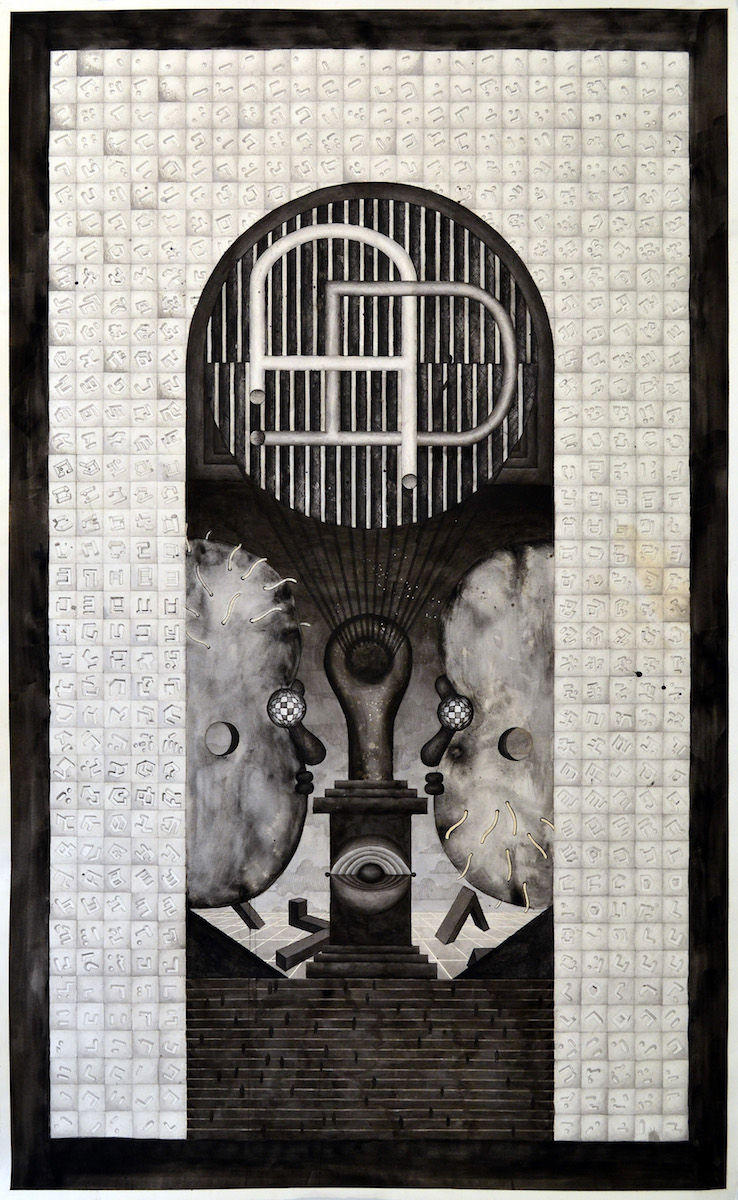 SIX COLORFUL TALES: FROM THE EMOTIONAL SPECTRUM (WOMEN) - 2011
SIX COLORFUL TALES: FROM THE EMOTIONAL SPECTRUM (WOMEN) is a video reinterpreting a 1977 John Baldessari video of the same title. In his original, 6 women are each introduced by a color-based title (eg: "Green Horn (Ilene)"), and tell an autobiographical story, head cropped small at the bottom of the frame, surrounded by a luminous backdrop of color determined by the title (eg: "Green Horn" = green).

Jen Liu develops cinematic pulp thrillers from each woman's story, using their original voice narratives as the soundtrack. Each vignette makes dramatic use of their "color" to amplify the violence intrinsic to each tale – stylized, excessive, and often absurd. Fears that are imagined or merely implied in Baldessari's original are realized and exaggerated. One woman depicts all the roles in this film, emphasizing the autoeroticism of violence – we see her flee from, destroy and consume herself, over and over again. This, paired with moments of narrative and visual disruption, makes it clear that this is a meta-fantasy.

SIX COLORFUL TALES was filmed in various locations in the vicinity of Vienna. Low-grade video cameras, homemade props, and a skeleton crew were used as a nod to B-movie film production, while stylistically the piece draws from giallo film in particular, gory Italian thrillers that peaked in the mid-70s.

Running time: 16:51
New Dawn Fades is part of the DRASTIC MEASURES body of work. It is based on a near-future world of environmental collapse, in which world leaders consolidate to institute austerity measures and reorganize society, in the attempt to salvage human society. In this reorganization, many new class-occupations are created, such as the Crunch Division, who exercise all day, and the Peace Division, who meditate all day.
THE BRETHREN ON THE STONE: COMFORTABLY NUMB, 2006
Running time: 12 minutes, 26 seconds
In Comfortably Numb, a young runaway monk is accepted into the Brethren of the Stone, a group of 14th century Cistercian monks who abandoned their monastery for a life in free nature. The convert and his new brothers speak to each other in musical verse -- Pink Floyd's "Comfortably Numb" translated into Latin and rewritten as a medieval madrigal-chant. However, after the initial acceptance rituals, the convert discovers that the Brethren are hostile to the outside world, which turns out to be the 21st century, not the 14th. He finds it hard to accept their disdain for the world, and their homicidal cannibalism. But finally, despite his resistance, the new convert relents to the group imperative, and graduates to be a primal spirit of nature. Comfortably Numb is the first part of a trilogy of videos. The second video will feature the primal spirits engaged in a battle against the Iron Men, which is also a grand battle between nature and technology, resistance and state power, nostalgia and modernity, as well as the battle between space rock and heavy metal.